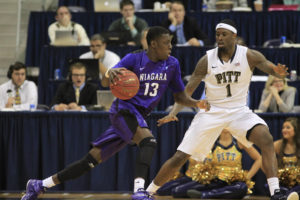 Courtesy of PurpleEagles.com
The Niagara Purple Eagles wrapped up their MAAC opening weekend with a convincing 74-58 win over the defending conference champion Iona Gaels on Sunday.
Niagara snapped several streaks in the win. The Purple Eagles collected their first win in the series since January 2013, snapping a seven-game skid, while picking up their first win at Iona since February 2009.
There were nine lead changes through the opening 10 minutes. Trailing 13-12, a layup by Kahlil Dukes sparked an 11-2 run as the Purple Eagles regained the lead for the rest of the game.
Niagara kept its composure when the Gaels cut Niagara's lead to 31-28 with two minutes left in the half with a game-changing 14-0 run. Matt Scott started the run with consecutive 3-pointers and Shane Gatling drilled a 3-pointer at the buzzer as the Purple Eagles went into halftime leading 40-28. NU opened the second half with baseline jumpers by Dominic Robb and Marvin Prochet, followed by a free throw by Dwayne Pow, for a 45-28 lead with 18:20 remaining.
Iona answered with a 13-0 spurt to trim the lead to 45-41. However, Dukes halted the run with a 3-pointer as NU hit back a with 9-2 run, including scoring six straight, for 54-43 lead with 9:24 left.
The game of runs continued over the next five minutes. The Gaels scored five straight to cut Niagara's lead to 54-48, before NU seized the momentum for good with an 11-0 run. Scott began the spurt with four straight points, with Dukes, Gatling and Marvin Prochet all providing scoring during the run as NU built the game's largest lead at 65-48 with five minutes left.
Eagle's Eye On…
· Four Purple Eagles scored in double figures for the fourth time this season.
· Matt Scott led all scorers with 20 points, for his 15th career 20-point game. Kahlil Dukes added 17 points to extend his streak of double figures scoring in every game this season. Shane Gatling netted a career-high 13 points, and Marvin Prochet scored 10 points.
· Dominic Robb had one block to have at least one block in every game this season.
· Maurice Taylor Jr. grabbed a team-high nine rebounds for his DI career-best.
· Dukes led the game with a career-high five assists.
Inside The Numbers
· The Purple Eagles handed the Gaels, who unveiled their 2015-16 MAAC championship banner prior to the game, just their third loss in their last 27 home games.
· Niagara's 40 first half points are the most this season.
· NU held a 44-34 advantage in rebounds, outscored Iona, 34-22, in points paint, and 21-11 in bench points.
· The Purple Eagles held the Gaels to their fewest points (58) this season.
Up Next
· Niagara wraps up its four-game road trip against the Kent State Golden Flashes on Wednesday, Dec. 7 at 7 p.m.
· The radio broadcast will be on WGR 550 AM and online via PurpleEagles.com.