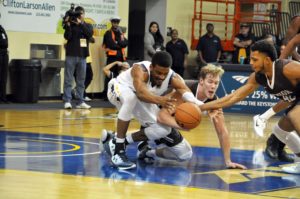 Courtesy of GoExplorers.com
PHILADELPHIA – The La Salle men's basketball team received a game-high 26 points from senior Jordan Price and had significant contributions from all eight players that saw action as the Explorers earned a hard-fought 89-81 win over preseason Patriot League favorite Lehigh on Wednesday evening at Gola Arena. Redshirt junior B.J. Johnson added 22 points and senior Cleon Roberts chipped in with 15 as La Salle improved to 3-2 on the season.
"We are thrilled because we beat a really good team," head coach Dr. John Giannini said. "They'll be a top 100 team and they have a great chance to make the NCAA Tournament. I watched them beat a terrific Princeton team, maybe the best Princeton team in a few years. I am really, really pleased, everyone contributed, and we're looking forward to building on it."
The opening 20 minutes were back and forth, with five ties and five lead changes. A layup from two-time Patriot League Player of the Year Tim Kempton gave the Mountain Hawks a 10-7 lead before a pair of three-pointers from Johnson put the Explorers on top by one, 13-12.
In fact, neither team led by more than four points through the first 15 minutes of play prior to a layup from Johnson and a reverse finish from redshirt junior Tony Washington. The pair of baskets put the margin at 40-34 with 2:23 on the clock.
The Explorers headed to the locker room with a five-point cushion thanks to an offensive rebound and putback by Roberts right before the halftime buzzer sounded. Johnson closed with 13 points in the stanza while Price had 12.
After a three-pointer from Lehigh's Austin Price opened the scoring in the second stanza and cut the margin to just two, La Salle scored nine straight points to push its advantage to double figures. Roberts was a big part of it, finishing a drive with an emphatic dunk before capping the spurt with a three-pointer.
The lead grew to as many as 16 points after a three-pointer from Johnson at the 11:25 mark of the second half. With the score 74-60 following a pair of free throws from redshirt junior Demetrius Henry, the Mountain Hawks mounted a comeback effort as Kyle Leufroy hit a layup and Brandon Alston connected from long range.
A layup from Austin Price trimmed the La Salle lead to seven points at the 4:26 mark before Jordan Price finished in the paint and redshirt junior Amar Stukes hit two from the charity stripe to reinforce the lead.
The cushion hovered around double digits into the final minute when Lehigh took advantage of a few miscues by the Explorers and got to within 85-81 with 17 seconds left. But Stukes and Price sealed the win with four free throws that accounted for the final margin of victory.
Henry and Washington combined for 15 points and six rebounds down low for the Explorers, and helped hold Kempton to half his season scoring average of 24.4 points per game (12 points). The backcourt trio of Stukes, redshirt sophomore Pookie Powell and junior Johnnie Shuler accounted for seven assists without turning the ball over in 62 total minutes played.
Alston led a group of five players who reached double figures for Lehigh with 18 points on 7-of-9 shooting. The Mountain Hawks shot 57.1 percent in the loss but were outrebounded by La Salle, 33-26, and shot just 6-for-11 from the free-throw line.
La Salle returns to action on Saturday, Dec. 3 against Bucknell at Tom Gola Arena. Tipoff is scheduled for 2:00 p.m.