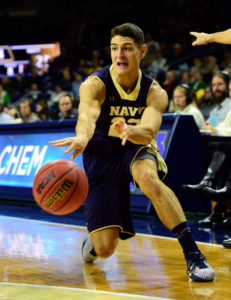 Courtesy of NavySports.com
INDIANAPOLIS, Ind. — Navy men's basketball senior guard Grant Vermeer has been nominated for the 2017 Allstate National Association of Basketball Coaches (NABC) Good Works Team, the NABC announced Wednesday. Vermeer is one of 111 Division I nominees for the Good Works Team this season and one of 181 nominees at all levels of men's college basketball.
Vermeer displayed his commitment to service and peer leadership by serving as the Regimental Commander for the second set of Plebe Summer prior to his senior year. His role as the Regimental Commander was to ensure the overall safety, welfare and execution of the training of the 1,200 members of the plebe class and to support and guide the 250 upperclassmen detailers.
He will also serve as the Sixth Battalion Commander in the Brigade of Midshipmen of the spring semester of his senior year.
Vermeer's family has also served as emergency foster care family.
Vermeer carries a 3.43 cumulative grade-point average as a cyber operations major. Vermeer was one of just eight members of the Class of 2017 to receive Cryptologic Warfare Officer as his service assignment in the U.S. Navy.
Vermeer was named to the 2015-16 NABC Honors Court and has been named to the Patriot League Academic Honor Roll twice.
Former Navy basketball player and 2015 Academy graduate Kevin Alter was one of five Division I players to be named to the Allstate Good Works team and was honored on the court at the 2015 Final Four in Indianapolis.
The Allstate NABC Good Works Team recognizes players at all levels of college basketball whose charitable involvement and altruistic acts stand out amongst all other student-athletes participating in the sport. This esteemed award honors an outstanding group of student-athletes who represent the sport's finest in the areas of community service and leadership among their peers. From leading an initiative to help end the water crisis in Flint, Mich., to co-founding a non-profit with the mission to improve literacy rates across the country, the players nominated embody the true spirit of teamwork and giving back.
Athletic departments and sports information directors across the country nominated the 181 NABC and the 97 WBCA student-athletes for the prestigious honor. Two special voting panels, headlined by former Duke University basketball athlete, two-time NCAA® champion and seven-time NBA All-Star Grant Hill, and former Notre Dame basketball star, two-time Nancy Lieberman Award winner and current WNBA player Skylar Diggins, will select 10-member teams from both the NABC and WBCA, comprised of five student-athletes from the NCAA Division I level and five student-athletes from Divisions II, III and the NAIA. The final roster of 20 award recipients will be unveiled in February.
Members of the Allstate NABC Good Works Team will be invited by Allstate, an official corporate partner of the NCAA, to the 2017 NABC Convention and 2017 NCAA Men's Final Four in Phoenix, where they will participate in a community service project benefitting the city. Members of the Allstate WBCA Good Works Team will be recognized during the 2017 WBCA Convention and at the 2017 NCAA Women's Final Four in Dallas, and will also participate in a volunteer project in the local community. Allstate is an official corporate partner of the NABC, WBCA and NCAA.
"The growth of the Allstate NABC Good Works Team program in five years has been remarkable with a record-setting number again for 2017," said NABC Executive Director Jim Haney. "We are very grateful to Allstate for shining a bright light on these men and women in college basketball whose compassion and commitment continue to help so many."
In addition to Clarkson, Hill and Diggins, the 2017 Allstate NABC and WBCA Good Works Teams selection panel members include: former college basketball student-athletes Clark Kellogg (Ohio State University / CBS Sports), Len Elmore (University of Maryland / CBS Sports / ESPN) and Alana Beard (Duke University); media members Seth Davis (Sports Illustrated / CBS), Dana O'Neil (ESPN), LaChina Robinson (ESPN / FOX) and Brenda VanLengen (ESPN / FOX Sports); former head coaches Bobby Cremins (Georgia Tech / College of Charleston), Seth Greenberg (Virginia Tech University), Marsha Sharp (Texas Tech University) and Nell Fortner (Auburn University); and current coach Coquese Washington (Penn State University).