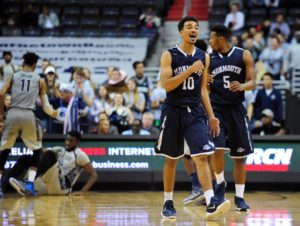 Courtesy of MonmouthHawks.com
WORCESTER, MA- Micah Seaborn (Fort Worth, TX/Prime Prep Academy) worked into the right side of the lane and hit a runner plus the foul shot to put Monmouth up with 7.5 seconds remaining to cap a furious comeback at Holy Cross Sunday, 80-77. Monmouth finished the game on an 8-0 run and scored eight points in 10 seconds to pull off the comeback.
Trailing by five with 13.4 seconds left, Pierre Sarr (Dakar, Senegal/Roselle Catholic) caught a pass underneath and laid one in, plus one to cut it to 77-75. MU forced a five-second violation on the inbound before Seaborn drew contact and hit to convert the three-point play and give the Hawks a 78-77 edge with 7.5 seconds left. Austin Tilghman (Wilmington, DE/Archbishop Carroll) picked up a full-court press and forced a turnover in the backcourt, eventually stealing the ball, drawing a foul and hitting both foul shots with 3.5 seconds remaining. The Holy Cross half-court attempt fell short and MU completed the comeback to move to 4-2 and win its third in a row.
NOTES AND QUOTES
"We're never going to quit," said head coach King Rice. "For as long as I've been the head coach at Monmouth we have never quit and our kids did not quit today."
"I'm glad that went our way, I think we made the right play call to get Micah a look. We were going for the win, and you hate for a call to decide a game but we got lucky. Micah is a baller." –King Rice
"I knew I hadn't been hitting shots like that today, I didn't want to take one fading away so I tried to get to the rim and see what happens." –Micah Seaborn
"That's just Coach Rice having confidence in me to come in and be a defensive presence. I just knew if I could get a hand on the ball that we would be good." –Austin Tilghman
-Monmouth scored eight points in less than 10 seconds after trailing by five with 13 seconds remaining.
–Justin Robinson notched his first career double-double and 10-assist game, going for 14 points and 10 assists.
-Monmouth trailed by six with 56 seconds left after a Karl Charles three-pointer.
-At least eight Hawks scored for the sixth time this season.
-Justin Robinson has gone into double digits in every game this year.
-MU had a 20+ point scorer for the second game in a row in Chris Brady (Seaborn-25 vs. SCSU).
-Monmouth has not had a player foul out this season.
-The Hawks conclude the month of November 4-2.
NUMBERS CRUNCH
-Chris Brady netted his first-ever 20+ point game, scoring a career-best 21 points on 9-12 shooting.
-The nine field goals made are also a career-best for Brady and the most by a Hawk this season.
-Brady posted four dunks on the game, three assisted by Robinson.
-Monmouth is now 1-0 against Holy Cross all time.
-Micah Seaborn finished with six assists, tying a career-high.
-Je'lon Hornbeak also worked into double figure with 11 points on 4-7 shooting.
-Four Crusaders scored in double figures, led by Anthony Thompson with 18 points.
-Monmouth is now 4-0 when leading at the half.
-43 second-half points tie Monmouth's best second period output of the season (43 vs. SCSU).
-The Hawks shot over 50% for the second game in a row.
UP NEXT
Monmouth opens MAAC play Thursday night, December 1 at Quinnipiac at 7:00 p.m.