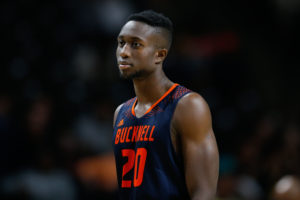 Courtesy of BucknellBison.com
LAS VEGAS, Nev. – Nana Foulland logged his third double-double of the season with 14 points and 11 rebounds, and Bucknell turned in a stellar defensive effort in an 84-58 runaway victory over Norfolk State in the opening game of the Continental Tires Las Vegas Invitational at the Orleans Arena. Zach Thomas added 14 points in only 20 minutes, and Matt O'Reilly hit four 3-pointers en route to a career-high 12 points for the Bison, who are now 4-2 on the season.
Bucknell turned in a complete performance one game after knocking off Vanderbilt on the road on Monday. The Bison will now face the winner of the Northern Colorado-Sacred Heart game on Friday at 5 p.m . Eastern (2 p.m. in Las Vegas).
"This was a good win for us," said head coach Nathan Davis. "Coming into the game we felt like Norfolk State had a lot of talent and a lot of size, and that we would have to play very well to win. We really defended them well. It's always difficult playing in these neutral-site games where there is not a lot of energy in the crowd, but to our guys credit they played hard and with a lot of intensity today."
Stephen Brown had a strong all-around game with nine points, five assists and three steals. Nate Sestina had eight points and five rebounds, and Kimbal Mackenzie added seven points and a pair of steals.
Mackenzie and freshman Avi Toomer (six points, three assists) drew a tough defensive assignment on Norfolk State guard Jonathan Wade, who came in averaging 20.0 points per game and had a 34-point performance earlier in the year. Wade was harassed into six turnovers, and he was held to 13 points, seven of which came after the game was out of hand.
All told, Bucknell racked up 10 steals, forced 15 total turnovers, and limited the Spartans (2-4) to 38.2 percent shooting from the field.
Foulland scored Bucknell's first six points of the game, but the Bison were slow to get started offensively. They trailed 11-9 seven minutes into the game, but then broke it open with an 18-2 run that included a 13-0 stretch over a span of just 2:18.
O'Reilly played a big part in the surge. He swished a right-wing 3-pointer that snapped an 11-all tie, and a few minutes later he hustled to the sideline to save a loose ball and hit Brown perfectly in stride for a breakaway layup.
Brown had two runouts off steals in the 13-0 run, and he had another contested transition attempt fall off the rim before being tipped back in by Toomer. That gave the Bison a 27-13 lead with 8:17 to go in the half.
Brown had nine points in the final 9:38 of the half, and his 3-pointer with just over a minute to go gave the Bison their largest lead of the half, 19 points at 39-20.
Norfolk State opened the second stanza on a 9-4 run, with Zaynah Robinson accounting for seven of the points, to close the Spartans within 13 at 46-33. But four points by Sestina and treys by O'Reilly and Toomer keyed a 13-2 run that stretched the lead all the way up to 24 at 59-35.
Bucknell would go on to lead by as many as 27 at 75-38 after O'Reilly drilled back-to-back treys from the left wing. His 12 points led a 38-point afternoon by the Bison bench.
The freshman class combined for 16 points, with Bruce Moore and Ben Robertson tallying five each in addition to Toomer's six.
Foulland went 7-for-10 from the field and is now shooting 67.9 percent on the season. His 11 boards helped lead the Bison to a 38-31 edge on the glass.
Bucknell hit 11 of 25 3-point attempts, including 7 of 14 in the second half. The Bison were 13 of 21 at the foul line and parlayed 11 offensive rebounds into 17 second-chance points.
Jordan Butler led Norfolk State with 21 points and eight rebounds.