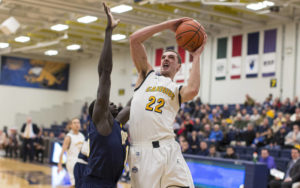 Courtesy of GoGriffs.com
The visiting UT Martin Skyhawks shot 51.5 percent from the field in the game's second half and outscored Canisius 40-33 in the contest's final 20 minutes to post a 72-69 win over the Golden Griffins Monday night in the Koessler Athletic Center. The win, UT Martin's fourth straight, improved the team to 4-1 on the year, while Canisius fell to 1-3 with the loss.
Canisius senior Phil Valenti scored a game-high 21 points in the losing effort, his 11-straight game with double-figures in the scoring column, dating back to last season. Junior forward Jermaine Crumpton added 17 points, three rebounds, three assists and three steals in the loss, while senior guard Kiefer Douse chipped in 11 points and four rebounds. Canisius shot 43.1 percent from the field, but the team went just 6-for-30 from 3-point land in its 2016-17 home opener.
Canisius led by as many as 11 points at 30-19 with 4:59 left before the halftime break, but the Skyhawks cut the Griffs' margin to four at the half by closing out the first stanza by outscoring Canisius 13-6 in the final 4:23 of the first half. In the second half, the Skyhawks continued to roll offensively and the visiting team eventually took its first lead of the night at 45-44 on a lay-up by Chandler Rowe with 15:39 left to play.
The game remained tight for the next few minutes until UT Martin went on a 10-1 run over the span of 1:59, capped by a dunk by Malik London, that forced Canisius to take a 30-second timeout with 9:51 left in regulation time. UT Martin's lead ballooned to as many as 10 points with 7:20 left to play, but Canisius battled back to get within five points at 72-67 with 1:24 left on the clock after junior Kassius Robertson connected on a 3-pointer from just in front of the Griffs' bench. After Canisius got a defensive stop, and a lay-up by Douse to make it a three-point game at 72-69 with 42 ticks remaining. Canisius' defense answered the bell again, forcing a UT Martin turnover on the next possession, but Canisius was unable to force the game to overtime as a long-range 3-point try with three seconds bounced off the side-iron and the Skyhawks grabbed the rebound as time expired.
UT Martin shot 47.5 percent from the field in the win, but the Skyhawks ended the night by going 4-for-23 from 3-point range. Forward Javier Martinez was good for 17 points and seven boards in the win for UT Martin, while fellow forward Kedar Edwards chipped in 16 points, eight rebounds and seven assists.
Head Coach Reggie Witherspoon's Postgame Comments
"This was a hard-fought game, and I thought we started the game fairly locked-in defensively. And then our energy dropped. We didn't stay locked in at all. As the game wore on, our energy level went down and they took advantage of it."
"Sometimes you're going to have nights [where you struggle from 3-point range] and you've got to win it other ways. In the first half, we forced 11 turnovers. In the second half, we forced four. Give them some credit, it looked like the tables got turned on us a bit in the second half where they got some pick-six variety steals that let them come right down and score uncontested. We can't allow ourselves to be energized simply on made 3-point field goals. We need to have enough energy to do the little things too."
"I think most of our threes were in rhythm, we took a couple quick ones where we didn't touch the paint, but most of them were in rhythm and they just didn't go in. You're going to have days like that. But we still had a chance to win the game despite shooting poorly. That's where we need to do the little things. We need to be locked in at the defensive end of the floor. We need to block out and get some offensive rebounds. When you shoot that poorly, you can't have only eight offensive rebounds as a team."
Inside the Box Score
• UT Martin held a 39-30 advantage on the glass. The Griffs have been out-rebounded in all four games this season.
• Canisius was credited with 19 assists on 25-made field goals. Ten of the 11 Canisius players that saw time on the floor Monday had one assist.
• The Skyhawks scored 40 of their 72 points in the paint, while Canisius scored 28 points in the paint.
• After recording just four steals in the previous two games, the Griffs were credited with six steals on Monday. Crumpton's three steals set a new career high for him.
Game Notes
• This was the first meeting between the two programs. UT Martin is the 62nd NCAA Division I program to play a game in the Koessler Athletic Center.
• Canisius is now 4-1 in its last five home openers.
• Valenti's 21-point effort is his 10th career game with 20-plus points.
• Crumpton has now scored in double-figures in three-straight games, the longest such stretch of his career.
Up Next
Canisius will close out its brief two-game homestand on Wednesday, Nov. 23, when the Griffs play host to Tennessee State in the Koessler Athletic Center. Tipoff is set for 7 p.m., and the game will be broadcast live on ESPN3.