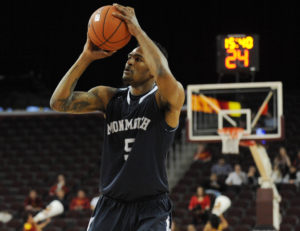 Courtesy of Monmouth Hawks.com
WEST LONG BRANCH, NJ- Former Monmouth basketball guard Deon Jones, the 10th-highest scorer in school history, signed a professional contract this week to join Earth Friends Tokyo Z of the Japanese Professional Basketball League. The team is based out of Ota, Tokyo, Japan and competes in the B. League's second division.
"Being able to live out my dream and play basketball professionally is such a great feeling," said Jones. "I'm truly thankful to be given this opportunity."
In just three seasons in the Blue and White, Jones made an impact by finishing 10th all-time in points with 1,229 and seventh in career scoring average at 13.9. Jones was a two-time All-MAAC 3rd Team performer, and lists sixth all time in rebounding with 576. He was a team captain while in West Long Branch.
"We are so impressed with what Deon has done and we know how much he meant to our program," said head coach King Rice. "He chose us when our record wasn't looking very good and really put a mark on this program. His best basketball is in front of him and he's going to be a great representative of Monmouth University and of his mom and dad."
In 2013-14, Jones joined with Andrew Nicholas to score 939 points combined, seventh most for a duo in school history before coupling with Justin Robinson in 2014-15 for 864 points, 10th most for a pair. Jones still holds the Monmouth record for free throws made in a game, sinking 18 in a win over North Carolina A&T on November 30, 2013. That came during the Barclays Center Classic pod held in West Long Branch, where Jones hit a buzzer-beater the night before to send MU to a win over Mississippi Valley State.
Earth Friends Tokyo Z competes in the B. League's second division and plays a 60-game regular season schedule. Former Division I players on the team currently include Xavier Ford, a 2015 graduate of the University of Buffalo, and Zachary Andrews, who played at Bradley University through 2007. Jones is expected to join the team in the next week.