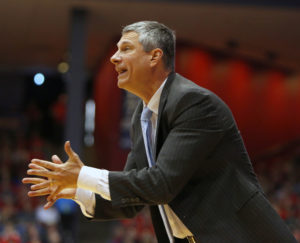 Courtesy of GoExplorers.com
PHILADELPHIA – La Salle head men's basketball coach Dr. John Giannini announced the signing of three student-athletes to National Letters of Intent on Monday. Miles Brookins (Santa Ana, Calif.), Jamir Moultrie (Bowie, Md.) and Dajour Joseph (Lauderdale Lakes, Fla.) are set join the Explorers in the fall of 2017.
"I am absolutely ecstatic about our fall signees," Giannini said. "This class, along with Saul Phiri, Isiah Deas and Cian Sullivan, will be the core of our future teams. They are recruits who we really believed in and aggressively pursued, so we are very pleased that they are as committed to us as we are to them."
Brookins is a 6-10 forward/center who plays his high school basketball at Mater Dei High School in Santa Ana, Calif. Led by head coach Gary McKnight, Brookins helped the Monarchs to a 27-5 mark as a junior and a No. 21 ranking nationally according to the USA Today Super 25 Boys Basketball Rankings. Mater Dei is currently ranked ninth heading into the 2016-17 season.
Giannini on Brookins: "Miles was the first to commit to us. He is well coached, coming from a nationally-elite high school program, and is ready for a big senior year. We will develop him his first year and then expect him to be a key player for us. He has good size, athleticism and skill and as he gains strength and experience, I believe he will be an excellent player for us."
Moultrie is a 6-1 guard from Maryland who is a four-star recruit and the 11th-best player in the state according to ESPN.com. He is also rated a four-star player and the No. 25 point guard in the country by Scout.com. Last season at Bishop McNamara, Moultrie scored 18.6 points per game and was named Third Team All-Met by the Washington Post.
Giannini on Moultrie: "Jamir committed after Miles and we were thrilled to get a player that we have recruited for over two years. He reminds me of our 2013 Sweet Sixteen guards in his strength, quickness and all-around skills. He will make us deeper and more talented next year and should help lead an outstanding group of young perimeter players moving forward."
Joseph is a 6-6 wing that currently attends Combine Academy in Charlotte, N.C., after graduating from Boyd Anderson High School in Fort Lauderdale, Fla. Last season at Boyd Anderson, Joseph was injured after only four games and was unable to play the remainder of the season.
Giannini on Joseph: "Dajour was a recruit I quickly became impressed with. He has eye-catching athleticism and a very good skill level. Many superior young athletes rely on their quickness and jumping alone, but Dajour has already developed as a reliable shooter and ball handler. Personally, he brings great energy on and off the court and he has strong leadership and winning characteristics."