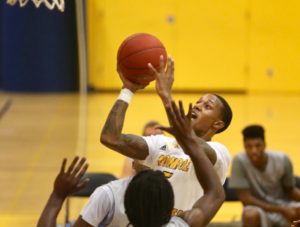 By PAUL GOTHAM
ROCHESTER, N.Y. — Despite playing porous defense and getting dominated on the offensive glass, the Monroe Community College men's basketball team nearly erased a double-digit deficit in the final six minutes of Sunday's contest. A shot at the buzzer, though, kicked off the back iron, and the No. 8 Tribunes (3-2), fell 94-92 to Cecil College in the Murph Shapiro Basketball Classic on Monagan Court.
"We got beat on dribble penetration 24 times. We gave up 17 offensive rebounds," Monroe head coach Jerry Burns ruminated. "That's a recipe for disaster."
Cecil College's 94 points represented the third time this season an MCC opponent has topped the 90-point mark. The Tribunes defense is allowing 85.4 points through the first five games of the season.
"Our defense is terrible," Burns continued. "Our goal is to give up 60 points a game. You're not going to beat anybody that's good giving up 90 points. We could play somebody that's a lesser caliber, but you're not going to beat good teams unless you can defend."
Cecil took advantage early in the second half scoring on eight of its first 10 possessions and eventually grabbed a 13-point advantage. Te'von Hines got ahead of the defense for a lay up, and Caleb Johnson hit a catch-and-shoot jumper to give the Seahawks an 82-69 lead with just over six minutes remaining on the game clock.
Monroe scratched its way back into the game.
Omar Williams converted a pair of free throws. Holden Redparth used the dribble to get in the lane and scored at the rim. Jaylen Hutton got loose on the wing and finished with a dunk. Kewan Platt made it a one-possession game when he hit a turnaround jumper in the lane with 3:49 remaining. Monroe trailed 85-83.
Johnson pushed the Cecil advantage back to five with a 3-pointer, and the Seahawks maintained that lead when Demetrich Williams made it a 94-89 game with less than 20 seconds remaining.
Monroe's Redparth hit a three-pointer from the top of the key to cut the deficit to two with 2.6 remaining. On the ensuing play, Platt intercepted the inbound pass, but the 6-4 guard's last-second attempt narrowly missed.
"There were some good things," Burns commented. "But overall there is nothing good in a loss. I just don't accept that we're moving in a better direction because we're not. We're losing, and we're giving up 90 points. That's not moving in the right direction to me."
Monroe's Williams led all scorers with 20 points on 6-of-11 shooting. The sophomore point guard handed out five assists.
"He did a good job tonight of letting the game come to him," Burns said of Williams. "He didn't try and force it. I thought he did play well.
Redparth added 19, and Tremaine Carter collected 18 points.
Platt finished with 13 points, eight rebounds and five assists.
Monroe finished with 15 helpers on 30 made field goals while committing eight turnovers for the team's best assist to turnover rate in a game this season. The Tribunes committed 20 turnovers while handing out just 11 assists in last weekend's loss to No. 6 Schoolcraft College. MCC had 22 miscues and 19 dimes in a win over No. 18 Northern Virginia CC while collecting 17 assists and 12 turnovers in the season opening win over Finger Lakes CC.
"Our offense was definitely improved," Burns noted. "That's a step in the right direction. But you got to man up."
Monroe jumped to an early seven-point advantage. Destin Blunt drove baseline and used the window to get the game's first points. Redparth converted a pair of free throws and followed with a pull-up jumper from just outside the lane. Platt drilled a catch-and-shoot three from the top of the key for a 9-2 Tribune lead.

Greg Alexander capped an 11-4 Cecil run to give the Seahawks their largest lead of the first half at 25-17.
Monroe responded with nine straight. Platt grabbed his own miss and kicked to Williams for three and a 26-25 MCC edge.
Williams scored on a twisting layup to tie the game at 47 at halftime.
Demetrich Williams paced Cecil with 19. Hines and LaQwin Stewart chipped in with 14 apiece. Stewart handed out a game-high seven assists.
Cecil grabbed 17 offensive rebounds and 44 overall. The Tribunes finished with nine and 37.
Both Cecil and Monroe ended their 2015-16 seasons with a loss in the NJCAA Division II tournament. The Seahawks received votes in the NJCAA D II pre-season poll.
Monroe travels to Baltimore, Maryland next weekend for the Legends Classic hosted by Baltimore City Community College. The Tribunes return home Saturday, December 10th when they host Lackawanna College in the first round of the Pete Pavia Memorial Scholarship Tournament.
Murph Shapiro gave 41 years of service to Monroe Community College, starting as men's basketball coach in 1969 and retiring as the college's athletic director in 2010. Shapiro led the men's basketball team from 1969-1985, finishing with a record of 329 wins and 113 losses. He won 20 or more games in a season eight teams, and his 1980 team went 31-6 and advanced to the NJCAA national tournament in Hutchinson, Kan. Shapiro also coached softball and women's tennis at MCC and taught in the college's Health and Physical Education department.
Shapiro was appointed athletic director on Sept. 1, 1991 and served in that capacity until his retirement. During that time, MCC teams won 102 regional and 13 national championships. The college has twice won the NATYCAA Cup (2006 and 2007), which is given annually to recognize overall athletic program excellence based on success in national competition. MCC finished second in the NATYCAA standings in 2008 and 2009 and was third in 2005. Shapiro was named Junior College Athletic Director of the Year for the Northeast Region by the National Association of Collegiate Directors of Athletics in 2000.
Shapiro was a well-known NCAA Division I basketball official. He officiated in the Big East, Atlantic 10, and Metro Atlantic Athletic Conferences and also worked a number of NCAA Tournaments. He was a Section V All-Scholastic Basketball Team member for Franklin High School after averaging nearly 20 points per game his senior year. He received a full scholarship to Division I Miami (Fla.), where he helped lead the Hurricanes to the NCAA Tournament his sophomore year and the NIT his junior season. He is a member of the MCC Sports Hall of Fame.