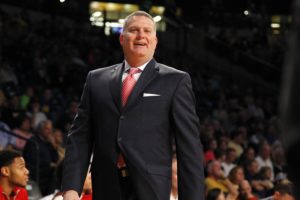 Compiled by PAUL GOTHAM
Counting down to tipoff and previewing the incoming players of the Atlantic 10 with a look at the first-year players of the Duquesne Dukes.
Duquesne finished 17-17 (6-12 in A-10 play) last season and fell to Morehead State in the CBI quarter-finals.
Jim Ferry and his staff welcome Kale Abrahamson, Emile Blackman, Caleb Davis, Mike Lewis II, Spencer Littleson, Isiaha Mike and Kellon Taylor to the lineup.
Kale Abrahamson F 6-8, 215 West Des Moines, IA/Valley (Drake GS)
Is one of the first two graduate transfers in Duquesne basketball history (along with Emile Blackman) … brings 95 games of Division I experience – including 54 starts – to the Dukes … spent last season at Drake where he averaged 11.1 ppg. … has 619 career points, including 116 3-pointers … has scored in double-digits 22 times, with 15 coming last season at Drake … began his college career at Northwestern in 2012-13 … has played for three coaches in his first three seasons (Bill Carmody and Chris Collins at Northwestern and Ray Giacoletti at Drake) … is an outstanding student who earned third team CoSida Academic All-America honors in 2016 … averaged 7.8 points and 5.3 rebounds per game during a six-game Far East Tour in late May … scored 18 points in a win over a team from Lithuania … was accompanied on the tour by teammate Darius Lewis.
as a redshirt junior at Drake (2015-16)
Played in 30 of 31 games with 26 starts … was second on head coach Ray Giacoletti's 7-24 Bulldogs with an 11.1 ppg. scoring average and 54 3-pointers (.342) … hit three or more 3-pointers in a game nine times … scored in double-digits 15 times, with a career high of 41 in an overtime win over Western Kentucky at the Gulf Coast Showcase in late November … Duquesne was one of eight teams in the three-day tournament … went 13-of-23 from the field and 11-of-11 from the line in posting the most points by a Drake player since 1981 … the 41 points, which included four 3-pointers, were the seventh-most in school history … went 6-of-9 from the arc in scoring 23 points vs. UIC five days later to earn Missouri Valley Conference Newcomer of the Week honors (Nov. 30) … hit five 3-pointers in scoring 30 in a win over Abilene Christian on Dec. 22 … was named MVC Newcomer of the Week a second time following the ACU game (Dec. 29) … was 7-of-12 from the field with three 3-pointers in scoring 21 points at Bradley on Feb. 20 … led the team in scoring five times and in rebounding four times.
as a sophomore at Northwestern (2013-14)
Saw action in all 33 games with 11 starts under head coach Chris Collins for the 14-19 Wildcats … averaged 3.8 points and 1.8 rebounds per game … was fourth on the team with 28 3-pointers … his .346 3-point percentage was second-best on the team … scored in double digits twice … posted career highs for points (19) and 3-pointers (5) in 30 minutes off the bench vs. UCLA … came off the bench to score 11 points and add a career-high-tying nine rebounds in a victory over Brown … converted a key three-point play with 42.9 seconds remaining in the 58-52 win … hit a pair of 3-pointers in scoring eight points at Michigan … posted nine points and three rebounds in a return to his home state vs. No. 20 (AP) Iowa … made his first start of the season in a victory over No. 23 Illinois … hit a trio of first-half 3-pointers, scoring nine points in a victory at Indiana … scored eight points, including two 3-pointers, in a victory over Iowa in the Big Ten tournament.
as a freshman at Northwestern (2012-13)
Played in all 32 games with 17 starts for a 13-19 team coached by Bill Carmody … averaged 4.9 points and 2.0 rebounds in 16.3 minutes per game … tied for third on the team with 34 3-pointers … came off the bench to make first four shots, including three 3-pointers, en route to scoring 15 points in first collegiate game, versus Texas Southern … posted 11 points with four rebounds, two blocks and two steals in first Big Ten game vs. No. 2 (AP) Michigan … hit three 3-pointers in scoring 10 points in a victory at Penn State … connected on three 3-pointers in scoring 13 points in a season-high 34 minutes at No. 13 (AP) Ohio State … had nine points and a season-high nine rebounds vs. No. 16 (AP) Ohio State … totaled a season-high 16 points at No. 10 (AP) Michigan State.
High School
Valley High School in West Des Moines, Iowa (head coach Jeff Horner) … named first-team Class 4A all-state as a junior and senior … averaged 18.4 points and 5.2 rebounds in leading West Des Moines Valley to an 18-6 record and IHSAA 4A state tournament quarterfinal appearance as a senior … named Central Iowa Metro League (CIML) Player of the Year by the Des Moines Register following his senior year … was first-team all-conference as a sophomore, junior and senior … was rated third in the state of Iowa class of 2012 by ESPN.com … team captain … averaged 21.4 points, 5.0 rebounds and 3.0 assists in helping the Tigers to a 16-8 record and sub-state championship game as a junior … was the second-leading scorer in the state in class 4A that season … Averaged 14.8 ppg. as a sophomore … earned CIML basketball academic awards all four years … played AAU ball for Martin Brothers Attack.
Emile Blackman G 6-3, 195 Dix Hills, NY/Half Hollow Hills West (Niagara GS)
Is one of the first two graduate transfers in Duquesne basketball history (along with Kale Abrahamson) … comes to the Dukes from Niagara where he scored 913 points in two seasons … was the Purple Eagles' leading scorer in both 2015 (13.5 ppg.) & 2016 (15.8 ppg.) … has never missed a game as a college player (played in all 26 games at Division II LIU Post and 62 of 62 games at Niagara) … started 60 times for the Purple Eagles … has scored in double digits 48 times, with 13 20-point games at the Division I level … is a career 81 percent free throw shooter … has had two dunks (one in each of his seasons at Niagara) selected as one of ESPN SportsCenter's Top 10 Plays … both dunks came against rival Canisius … began his college career at Division II LIU Post … accompanied head coach Chris Casey from LIU Post to Niagara following the 2013 season … sat out 2013-14 per NCAA transfer guidelines.
as a redshirt junior at Niagara (2015-16)
Saw action in all 32 games with 31 starts … led the 7-25 Purple Eagles in scoring (15.8 ppg.), 3-pointers made (42) and free throw percentage (.805) … scored in double digits 28 times, including each of the final 15 games … averaged 17.1 points per game over that span … made 40 of his last 45 free throws over the final nine games of the season … had a season-high 27 points at rival Canisius on Feb. 25 … added 26 points vs. the Golden Griffins in the season finale, a 102-97 triple overtime loss in the first round of the MAAC Championship … his baseline dunk vs. Canisius on Jan. 22 was play No. 6 on ESPN SportsCenter's Top 10 Plays that evening … earned a spot on the Hall of Fame Tip-Off Springfield Bracket All-Tournament Team after averaging 18.0 points and 5.5 rebounds in early-season games against Vermont and North Carolina A&T … topped the 20-point mark nine times … either led for tied for the team lead in scoring 15 times.
as a redshirt sophomore at Niagara (2014-15)
Played in 30 games with 29 starts for the 8-22 Purple Eagles … averaged a team-high 13.5 ppg., which ranked 11th in the MAAC … his .459 field goal percentage and .831 free throw percentages ranked 10th and 7th in the conference … scored in double digits 20 times and topped the 20-point mark four times … went 12-of-23 in scoring a career-high 32 points at Quinnipiac … hit six 3-pointers in adding 30 points in a win at Rider … was named Big 4 Player of the Week following the Rider game (Feb. 23) … added 21 points both at St. John's and vs. Siena … led the team in scoring 10 times and in assists five times … either tied or led the team in blocks six times, steals five times and rebounds twice … scored a team-high 16 points in the season opener at Pitt … his alley-oop dunk of an inbounds pass against Canisius was named the fourth-best play on ESPN SportsCenter's Top 10 Plays on Feb. 24 … had five or more rebounds in a game 12 times, including a season-high eight vs. Iona.
as a freshman at LIU Post (2012-13)
LIU Post (head coach Chris Casey) … played in all 26 games with three starts for the 18-9 Pioneers … averaged 6.5 points per game on .512 shooting … went 24-of-51 (.471) from the 3-point arc, with 20 of the 3-pointers coming in his last nine games (20-of-34, .588 over that span) … scored in double digits eight times, including each of his last six games … averaged 16.8 ppg. in his final six games … scored a season-high 23 points in 27 minutes against Mercy and followed that with 18 vs. St. Thomas Aquinas … added 19 in a season-high 31 minutes versus Molloy … grabbed a season-best seven rebounds in the season finale against Dowling.
High School
Half Hollow Hills West in Fort Dix, N.Y. (head coach Bill Mitaritonna) … helped Half Hollow Hills West to two Suffolk County and Long Island Championships, as well as a state final four appearance and a championship game appearance … was a two-time all-county and All-Long Island selection … finished as the school's record-holder for games played (89) … his 1,257 career points ranked second on the Colts' all-time scoring list.
What they're saying about Emile Blackman – Mark Gaughan/Buffalo News: "He's going to be a really good addition for Duquesne. He plays the game with intensity and fire. He was the emotional leader for Niagara. He's bouncy, attacks the rim and scores in transition. Given Niagara's lack of scorers, he was forced to be a volume shooter out of necessity. That was reflected in his shooting percentage. He is a good shooter. He's got to prove he can shoot it a little bit more reliably behind the arc. His numbers don't look great because he had to force shots that he won't have to take with Duquesne. His true 3-point shooting ability is better than the numbers reflected at Niagara. He will be a good defender. He can defend any of the guard positions pretty well. Emile Blackman is a great kid."
Steve Keller/National Recruiting Report: "He's a super athlete who can can create shots for himself. He's effective off the dribble."
Caleb Davis G 6-0, 170 New Kensington, PA/ Valley
Valley High School, New Kensington, Pa. (head coach Mark Faulx) … led the 8-12 Class 3A Vikings in scoring as a senior with a 13.1 ppg. scoring average … totaled a season-high 20 points against both Hampton and Mars Area.
Mike Lewis II G 6-1, 175 St. Louis, MO/Chaminade
Chaminade College Preparatory School in St. Louis, Mo. (head coach Frank Bennett) … averaged 9.9 points, 2.2 rebounds and 1.7 assists per game for a 27-5 Class 5 state champion Chaminade team that sent four players to the NCAA Division I ranks …helped the Red Devils to a No. 7 national rank (No. 3 in the Midwest) in USA Today's final expert poll and Class 5 state championship … with Chaminade leading 58-56 in the fourth quarter, Lewis hit back-to-back 3-pointers to give the Red Devils a 64-56 lead with 2:38 left in what became a 72-59 win over Kickapoo in the state title game … was second to Duke recruit Jayson Tatum – Lewis' friend since fourth grade – on the team in 3-pointers (44-111, .396) and steals (36) … shot .457 from the field and .838 from the foul line … scored a team-high 27 points in a 76-63 win over Metro Catholic Conference rival Christian Brothers College … averaged 11.5 points per game in helping Chaminade to a third-place finish in the Missouri Class 5 state tournament as a junior … scored a game-high 25 points in a Class 5 quarterfinal win over Hazelwood Central … led the team in 3-pointers made with 55 on 48 percent shooting as a junior … scored 928 points over this last three high school seasons … converted a total of 99 3-pointers as a junior and senior … was named the Metro Catholic Newcomer of the Year as a sophomore.
Personal
Played AAU ball for the Gateway Basketball Club … also had offers from Omaha, IUPUI and Illinois State among others … was also receiving interest from Saint Louis and Xavier at the time of his commitment … three of his high school teammates: Jayson Tatum (Duke), Tyler Cook (Iowa) and Will Gladson (Princeton) are currently playing Division I ball
Spencer Littleson G 6-4, 195 Rochester Hills, MI/Rochester Adams
Played both guard spots in a high school career he capped by earning first team all-state honors … finished third in the voting for 2016 Michigan Mr. Basketball… averaged 25.1 points, 6.3 rebounds and 3.2 assists and 2.0 steals per game in leading 18-6 Rochester Adams to the Class A regional championship … shot .442 from the field, .412 from 3-point and over 80 percent from the foul line … finished his career as the school record-holder for points in a season (502 as a senior), 3-pointers in a season (72 as a senior), free-throws in a game (19) and 3-pointers in a career (161) … finished third in the voting for 2016 Michigan Mr. Basketball … named first team Associated Press Class A all-state … earned a spot on the Detroit News Dream Team … named the All-Oakland County Player of the Year … scored 24 points and added 8 rebounds in a 48-36 win over Stoney Creek to clinch Rochester Adams' first district title in five years … went on to lead the Highlanders to the Class A regional final … had a triple-double with 24 points, 11 rebounds and 12 assists against Sterling Heights Stevenson … went 18-of-19 from the foul line and added five 3-pointers in scoring 42 points in an overtime win over Auburn Hills Avondale … had 38 points – inlcuding six 3-pointers – 8 rebounds, 8 assists and 3 steals in a Motor City Roundball Classic 68-63 win over Novi … was named Associated Press Class A honorable mention all-state and MLive Detroit honorable mention in leading the Highlanders to the district final in 2015 … averaged 19.5 points, 4.8 rebounds, 3.0 assists and 2.4 steals per game as a junior … was a multiple time all-league and all-county selection … played both shooting and point guard in high school … three-year starter. Played AAU ball for 1 Nation Elite Sports (head coach Apples Jones) … teamed with ESPN.com's No. 2 rated national recruit Josh Jackson (Kansas) on 1 Nation … considered Saint Joseph's, Oakland, Lafayette and Western Michigan among others … his brother, Zach, is a senior guard at NCAA Division III Hope College in Holland, Mich. … began skills training with former Detroit Mercy star Rashad Phillips at the age of 12 … grew from 5-10 to 6-3 as a high school freshman .
What they're saying about Spencer Littleson – Steve Schwanda/All Eyes On UHoops: "Benefited greatly by playing AAU with 1Nation on the UA tour. He stood out because he knows how to play basketball and plays hard all the time. Not the quickest or tallest or strongest, but he makes plays. He can handle the ball a bit, and he is a very good shooter. Smart player with a high basketball IQ who knows how to get his shot off against players who may be more athletic. Not that he is a bad athlete, he just will not wow anyone with his vertical."
Isiaha Mike F 6-8, 200 Scarborough, ONT/ Trinity International – Nev.
Versatile forward was ranked as the third-best 2016 prospect in Canada by North Pole Hoops, behind Thon Maker (No. 10 overall pick in the 2016 NBA Draft/Milwaukee Bucks) and Maryland recruit Justin Jackson… averaged 27.6 points, 14.3 rebounds, 3.1 assists and 1.9 steals per game for a Trininty International team that advanced to to the National Christian Schools Athletic Association (NCSAA) Basketball Championship title game for the second consecutive year … earned a spot on the NCSAA Basketball Championship All-Tournament Team … scored a game-high 20 points – including six dunks – for the Sin City Thunder in the boys all-star game at the first Las Vegas Basketball Classic in March … had 18 points, 12 rebounds and 3 steals in Team White's 120-118 win over Team Red in the 2nd annual BioSteel All-Canadian Basketball Game in April … the game featured the top 24 Canadian-born or currently enrolled in Canada players born in 1997 or later … the game was televised across Canada by TSN … averaged 14.8 points and 7.8 rebounds for 33-8 Trinity International as a junior … helped the Thunder to the NCSAA championship game … had 26 points, 20 rebounds and 3 blocks as a junior in a win over Future College Prep. Played AAU ball for Hoops Canada Elite as well as Simply Fundamental Basketball Academy … was ranked as the No. 3 prospect in Canada by North Pole Hoops in the spring of 2016 … was named to the all-tournament team of the Pittsburgh Pro-Am Summer League in July of 2016 … the league features players from area schools including Pitt and Robert Morris as well as other former college players with local ties who are currently playing collegiately or professionally overseas ..
What they're saying about Isiaha Mike – Steve Keller/National Recruiting Report: "He's explosive and athletic. He could be really good for Duquesne. He can compete against anybody."
Kellon Taylor F 6-5, 220 Landover, MD/DeMatha
Talented two-sport athlete will compete in both football and basketball for the Dukes… averaged 8.0 points, 8.0 rebounds, 5.0 assists and 3.9 steals per game for a 32-5 DeMatha team that finished the season ranked No. 13 nationally (and No. 4 in the Northeast) in USA Today's final expert poll … helped DeMatha to a Maryland Private School state title … scored 12 points in a win over John Carroll to clinch the Alhambra Catholic Invitational Tournament championship played on the campus of Frostburg State University … hit a floater in the lane to send the Stags' game against then-No. 14 Chaminade College Prep – and fellow Duquesne freshman newcomer Mike Lewis – into overtime in the Spalding Hoophall Classic … the shot capped a rally from 10 points down with just over three minutes left… DeMatha went on to win the game – which was played in front of a national ESPNU television audience in Springfield, Mass. – 72-69 in the extra session … scored a season-high 16 points, including four 3-pointers, in a win over Bishop O'Connell … was named honorable mention All-Washington Catholic Athletic Conference (WCAC) as a junior and senior … caught 31 passes for 540 yards and four touchdowns as a senior wide receiver in helping DeMatha to its third-straight WCAC football championship … was named honorable mention Private School All-State (Maryland) in football as a senior. Played AAU ball for the DC Blue Devils … received basketball offers from Manhattan and Wright State in addition to interest from George Washington, St. Bonaventure and Old Dominion … was also recruited for football-only by Boston College and Virginia Tech … played basketball alongside McDonald's All-American Markelle Fultz (Washington) at DeMatha .
What they're saying about Kellon Taylor – Steve Keller/National Recruiting Report: "He was big-time football recruit but decided he liked basketball more than football as time went on. When you're that good at football, there's nothing that scares you. You get out on the court and do your thing and go against anybody. He's probably just fair skill-wise, but he's physical and tough."
Marcus Helton/DMV Elite: "He received D-1 offers for both basketball and football. He was getting high-level interest for football. He was a role player on the DeMatha basketball team, but he played his role and did it well. He's really athletic and tough."