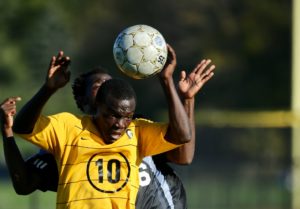 By PAUL GOTHAM
ROCHESTER, N.Y. — Vasbert Harry ignited a prolific offense which scored early and often as the Monroe Community College men's soccer team easily defeated the Roberts Wesleyan College JV, 13-0 in non-league action Wednesday night.
Harry scored four goals in the match's first 16 minutes to spark the Tribunes second straight win and fourth in their last five outings.
Prince Kermue (3 goals), Lucas Egan (2), Mark-Vincent Sansone (2) and Adrian Minott (1) joined the scoring parade as the Tribs marched into halftime with a 12-0 advantage.
"I told them before the game 'go out there and have fun,'" head coach Nelson Cupello said. "It seemed like they did."
Vasbert one-timed Kermue's cross from the right flank to get the scoring started. The 5-foot-5 sophomore added another with an assist from Egan in the ninth minute. He took a pass from teammate Anthony Paris and cut back with a dribble to tally his fourth goal of the night and seventh of the season in the 17th minute for a 6-0 Tribune lead.

"Hopefully, that's what going to push him going forward when we get into post-season," Cupello added. "We go to Cleveland next weekend then we have Mercyhurst at home."
Sansone made it a 2-0 game in the eighth minute with a blast from outside the 18-yard box. The freshman midfielder added three assists to go with his two goals in the match.
"I don't know if they've ever been in a situation where they got beat like that," Cupello said of his own players. "I haven't, but I know what it's like. You don't want to humiliate anybody. You just want to go out there and work on your game, try to stay sharp and make sure nobody gets hurt. That's key. They did their job."
Marco DeLauri, Zach Mandara and Daniel Tobin combined for the clean sheet.
Monroe's back line held Roberts without a shot on net until the 61st minute.
"Hopefully that's going to be what these guys needed. We compete like that a lot, against anybody. It just needs a little bit of work."
Sam Jiggins converted Niko Nitti's cross just outside the six-yard box for the contest's final goal. Nitti leads Monroe with 15 points on six goals and three assists.
The Tribunes improved to 7-4-1 with the win.
Monroe's next match takes place October 22nd at Cuyahoga Community College.
Complete article to follow.