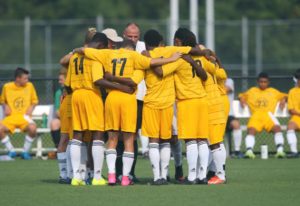 By PAUL GOTHAM
ROCHESTER, N.Y. — Matthieu LeRoux tallied twice in the opening moments of the second half, and the Bryant & Stratton Bobcats went on to defeat the Monroe Community College men's soccer team, 5-0 in non-conference action on John L. DiMarco Field, Wednesday.
Dennis Ntsin got to the touch line and fed LeRoux who found back of the net for a 2-0 advantage in the 48th minute.
Four minutes later, LeRoux put the match out of reach at 3-0. The freshman forward found himself alone in the box when Monroe goalkeeper Marco DeLauri made a sliding save on Ojai Bedward's breakaway attempt. LeRoux easily converted the opportunity.
Zino Zampach increased the advantage to four in the 54th minute when the Bobcats used deception to convert a direct kick. As Bedward appeared to pace off steps for an attempt from the top of the box (picture a place-kicker in a football game), Millon Prescott's gentle touch freed Zampach who alertly wheeled around the Monroe wall for the tally.
Hassan Abdi neatly threaded a pass through the Monroe backline to spring Alex Pomp for the final score of the game.

Abdi got Bryant & Stratton on the scoreboard in the 34th minute.
Vasbert Harry had the Tribunes best attempt at a goal in the 82nd minute, but Bryant & Stratton's Harry Watson was there for the stop.
DeLauri finished with four saves.
Bryant & Stratton improved to 7-1 with the win.
The loss snapped the Tribunes two-game win streak. Monroe fell to 5-4-1.
The teams have a common opponent in Massasoit CC with both picking up a win. MCC beat Massasoit 3-1 while the Bobcats triumphed 2-0.
Bryant & Stratton left the NJCAA and joined the United States Collegiate Athletic Association in 2014. The Bobcats defeated Yavapai, 3-2 for the 2001 NJCAA Championship.
Monroe and Stratton met for the Region III championship every year from 1998 through 2013 with both teams taking eight of the contests.
Monroe hosts Region III rival Mercyhurst NE this Saturday as part of Homecoming Weekend. A 2:30 p.m. kickoff is scheduled.