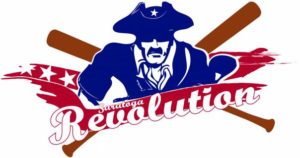 ROCHESTER, N.Y. — When the New York Collegiate Baseball League opens its 40th season of play, it will welcome an organization with ties to the past.
The Saratoga Revolution owned by Kim and Tom Coons will play its inaugural NYCBL season in 2017.
"It's great to bring kids to an NYCBL team to play with the idea that one or two or maybe three or more you may see them down the road and you can follow them in the major leagues or the minor leagues," Tom Coons said. "That's the whole anticipation thing that really makes it appealing.
The Revolution will join the Cortland Crush, Rome Generals, Sherrill Silversmiths and Syracuse Salt Cats in the NYCBL's Eastern Division.
"The NYCBL is very happy to welcome the Saratoga Revolution as a new franchise in our league," NYCBL President Steve Pindar said. "It's great to have a team in Saratoga again and to be able to offer summer collegiate baseball to fans in that area of the state."
For Kim and Tom Coons owning an NYCBL franchise is an opportunity to remain connected with their community.
"One of the things that we were interested in having a team back here in Saratoga is because we were so involved in both of our children's lives," Kim Coons said referring to youth baseball and Babe Ruth leagues as well as high school baseball. "We wanted to still keeps our hands in there, and this gives us that opportunity."
The Saratoga Phillies played in the NYCBL from 2004-2009. Current major leaguers J.D. Martinez and Mike Fiers played for the Phillies. Fiers set an NYCBL record with 76 strike outs in 2008. A record that held until the 2015 season. Tom Coons remembers those teams well as the former high school and college coach had a chance to help with those clubs. He got a chance to know Fiers and still remains in contact with the current Houston Astro.
"Those lasting relationships in addition to the true form of baseball really makes this an appealing venture for us," Tom Coons said. "It made it so that this is what we wanted to try."
Kim and Tom's son, Cam, played for the Geneva Red Wings during the 2014 NYCBL season.
"When Cam played, we met a lot of coaches, a lot of owners and GMs throughout the league," Tom Coons added. "We are looking forward to this. It's going be a lot fun."
The 2017 NYCBL season schedule will be announced later this year.
To view a complete list of current MLB players with NYCBL experience follow this link. Readers can view the list of minor league players with NYCBL experience here.