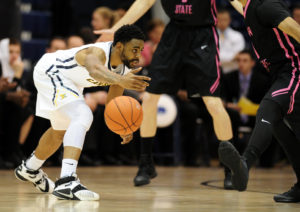 Courtesy of GoGriffs.com
Former Canisius men's basketball player Malcolm McMillan MS '16 has signed to play professionally for Aries Trikala in the Greek Men's Basketball A1 League. McMillan is the second former Golden Griffin player to sign a pro contract in Greece this offseason, joining former center Kevin Bleeker, who signed to play with Holargos in the Greek B League last month.
McMillan played the 2015-16 season for Canisius, where he averaged a team-high 14.7 points per game to go with 4.1 assists and 3.1 rebounds per contest. The Baltimore, Maryland native scored in double-figures 26 times in 33 games played last season for the Blue and Gold, highlighted by his career best 33-point effort at Hofstra. McMillan led the MAAC with 218 trips to the free-throw line in 2015-16, where he shot 83 percent from the stripe. That success rate ranks eighth-best for a Canisius player in a single-season.
McMillan, who transferred to Canisius after earning his undergraduate degree from Central Connecticut State, graduated from the College with his master's degree in sport administration.
McMillan is the 19th former Griff to sign a professional contract to play overseas since 2006.