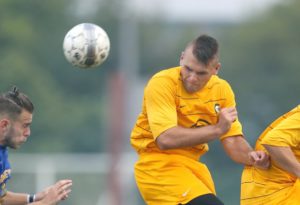 By PAUL GOTHAM
ROCHESTER, N.Y. — Nelson Cupello's sigh of relief said it all. With a win over a previously national-ranked opponent, the Monroe Community College men's soccer coach exhaled.
"They're a great team," Cupello said of Massasoit Community College. "To our credit, we did a great job. The guys listened. They did everything we wanted them to in practice, just phenomenal."
An opportunistic Tribune 11 took advantage of a pair of Massasoit mistakes to score the game's first and final goals, and the Tribunes defeated Massasoit CC 3-1 in NJCAA action at John L. DiMarco Field, Saturday afternoon.
Vincent Mauro tallied in the first minute when Adrian Minott's attempt from the right side of the box was mishandled by the Massasoit goalkeeper.
"You just got to be like a sniper," Cupello explained. "Pick your fights. Pick your chances. Both goals, the first and third, we pressed. They made a mistake and we were right on it. That's what we want to do."
The Tribunes never trailed from there.
Substitutions to the front line created Monroe's second goal. Cupello went to his bench and put speed up top.
"That's the added thing that we have," Cupello noted. "We have some guys with different styles who can do different things. Niko (starting forward Nitti) came in and he started. He put them under pressure and wore them down."
With Massasoit CC reacting to Nitti's physicality, Prince Kermue and Samuel Jiggins combined for the eventual winner in the game's 23rd minute.
"Coach had us on the bench paying attention to the other team's weakness, so when we step on the field we know what we can do," Kermue stated. "When he put me in, I saw where their weakness was, which defenders were slow, and I took advantage of that. Nice cross from Sammy and I was able to put the ball in the back of the net."
Lucas Egan started the play. Monroe's sophomore midfielder feathered a pass along the right wing to Jiggins who gathered the ball and fed Kermue in the box.
"As Lucas put the ball out to me, I took a touch and just looked up and saw Prince open in the middle," Jiggins said. "I knew that the wind was strong and hit it a little bit lighter and it just fell to his feet."
Kermue's first goal of the season gave the Tribunes a 2-0 lead.

"Sammy used his pace to get there quick enough," Kermue said. "The moment he saw me running, he crossed the ball in. I ran to first post and trapped it – boom hit it in the back of the net."
Tribune keeper Marco DeLauri made four saves in the game including a spectacular leaping touch over the cross bar off a point blank shot to preserve what was then a 1-0 Monroe lead.
"If Marco doesn't make that save then we're in a dog fight," Cupello said. "Not that we weren't already, but it could very easily have been worse without that save."
Niko Nitti, who found the net and added an assist in Monroe's win Wednesday, supplied an insurance goal in the 75th minute. Nitti capitalized on a Massasoit give away in the defensive end for a 3-1 Tribune lead.
Monroe's defense limited Massasoit to five shots on goal for the afternoon. The Warriors, ranked 14th nationally in the pre-season poll, averaged 2.5 goals in their first two contests.
"Our defense played as a team," Cupello said. "We talk about team defense. The whole team is well aware. The forwards have got to step up and start playing defense there."
Massasoit's lone goal came in a counter-attack situation when the Warriors took advantage of a long lead and a little confusion to cut Monroe's lead to one at 2-1.
"It was a fluky play, but our guys have got to understand that college soccer is a physical game," Cupello noted. "There's a lot of body contact."
Massasoit leading scorer Sidney Cardoso took a ball just over midfield and beat DeLauri one-on-one.
"To Cardozo's credit he knows how to play that. His arms swinging. He grabbed Pete (Monroe defender Brennan) by the shoulder and held him back. He went right by him. Pete stopped. He thought he had been fouled. Referee didn't see anything. We tell our guys 'you don't hear a whitstle, you got to keep playing.' I don't care if a guy has got a broken leg, you don't hear a whistle it's not a foul. It's only a foul when he blows the whistle."
Monroe improved to 2-1-1 with the win.
Massasoit fell to 1-1-1.
Monroe travels to Mercyhurst NE for Region 3 contest Wednesday afternoon. The Tribunes host Hobart College JV on Wednesday, September 21st. A 2:30 p.m. kick off is scheduled.