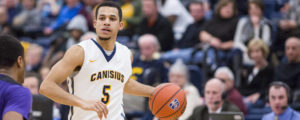 Courtesy of GoGriffs.com
The Canisius men's basketball program and the Metro Atlantic Athletic Conference (MAAC) announced the Golden Griffins' 2016-17 conference regular season schedule.
Season tickets for the combined men and women's home schedule can be purchased or renewed by calling the Canisius Ticket Office at (716) 888-TIXX between 10 a.m. and 4 p.m., Monday through Friday, or by going online to GoGriffs.com. Reserved seats cost $200, with general admission season tickets costing $150. The purchase of a Canisius season ticket package includes tickets to the Griffs' Big 4 Basketball Classic game against Buffalo on Saturday, Dec. 17 in First Niagara Center. Group ticket packages, ticket packs and single-game tickets will go on sale in the next month.
The Griffs will officially open MAAC regular-season play on the road with a pair of games at Manhattan and Monmouth Friday, Dec. 2 and Sunday, Dec. 4. Canisius will return to MAAC play after the holidays, starting Monday, Jan. 2, 2017, when the team hosts Siena in the Koessler Athletic Center. Quinnipiac is also scheduled to play in Buffalo on the first week of the 2017 calendar year, when the Griffs host the Bobcats on Wednesday, Jan. 4.
The Griffs will play six of their 10 home MAAC games in the month of January, starting with Siena on Jan. 2. The Blue and Gold will close out the regular season with four home dates in February, including the final weekend of the regular-season, when the team hosts Fairfield (Friday, Feb. 24) and Saint Peter's (Sunday, Feb. 26).
Canisius will play five of its MAAC games on Monday, including a Jan. 23 contest at long-time rival Niagara. Niagara will make the trip south on I-190 for the second game in the annual "Battle of the Bridge" series on Friday, Feb. 10. In all, the Griffs are slated to play seven games on Monday this season, including the 2016-17 home opener on Nov. 21, when UT Martin comes to the Koessler Athletic Center as part of the Bluegrass Showcase.
The 2017 MAAC Men's Basketball Championship will be held March 2-6 in Times Union Center in Albany, N.Y.
The Griffs will officially open the 113th season in school history on Sunday, Nov. 13 when the team travels to play at Kentucky. Canisius will be led by first-year head coach Reggie Witherspoon, who took over as the program's 24th head coach on May 28, 2016.