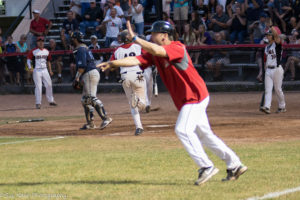 By PAUL GOTHAM
Bobby Bell's 2016 Olean Oilers rattled of a record 24 straight wins on their way to setting the regular season mark of 39 victories and winning their second straight New York Collegiate Baseball League Championship Series.
Getting the two-time NYCBL Manager of the Year to talk about his personal accomplishments might be more difficult than beating his team.
"It's a cool award," Bell said. "I always appreciate it and love that honor. At the same time I feel like it should be a staff award, or they should at least reflect that on the award.
"There's a whole lot of work that people are putting in together. The people doing stuff off the field work as hard as we are on the field."
That hard work is reflected in the results.
Little more than a year ago, Bell's Oilers were on the outside of the NYCBL playoff picture looking in. Since then Olean has compiled a staggering .828 winning percentage closing 2015 8-3 before winning six of seven post-season contests.
"He does a tremendous job of keeping us loose every day," second-year Oiler David Hollins (St. Petersburg College) said. "He's always into it. He's got positive energy.
"He understands that everybody is different and that they've got to be treated differently based on their personality and how they go about their day."
VIEW MORE SUE KANE PHOTOS HERE.
Austin Bizzle (Alabama State) started and earned the win in game one of the 2016 NYCBL Championship Series. Bizzle went the distance for the victory in the deciding game of the 2015 league championship series. The right-hander from Lynn Haven, Fla. also went 4-2 for the 2014 Oilers – a team that finished 16-30.
"It's just a great environment to come out and be around to have fun for the summer relax and play baseball," Bizzle said of the atmosphere Bell creates. "When we're out there battling he's behind us the whole way. He's a great players' coach. I've enjoyed playing for him for three summers."
Right fielder Sam Kysor (Lock Haven) also played the last three seasons with the Oilers.
"I've seen it all," Kysor said of his experience with Olean. "I have seen from when we were below .500 to .500 and now up and up from .500. It's incredible what he has been able to do in such a short period of time to create a dynasty here in Olean. Just bringing in the right guys. He knows what he's doing. He's finally put what he's had in his head into actual reality which is wonderful to be a part of…He's very flexible with his coaching style. He just makes you want to play for him every day"
Bell's 2016 Oilers scored 7.9 runs a game while holding opponents to a league-low 3.06 tallies.
Bell garnered 12 first-place votes while Cortland Crush skipper Bill McConnell received four first-place nods. Sherrill's Jim Hegmann received two top votes. Syracuse Jr. Chief head man Joe Antonio and Syracuse Salt Cats head coach Mike Martinez each took one first-place vote.
2015 Manager of the Year results.
2016 Manager of the Year (first-place votes in parentheses)
Bobby Bell (12) 73
Bill McConnell (4) 44
Jason Cronin/Wellsville 19
Joe Antonio (1) 15
Jim Hegmann (2) 10
Mike Martinez (1) 6
Jake Kenney/Hornell 3
Justin Dillard/Rochester 1