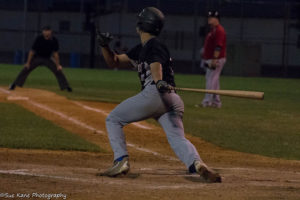 By PAUL GOTHAM
SYRACUSE, N.Y. — Thursday night Eddie Demurias made plenty of noise with his bat. Saturday night, the University of Florida product used his arm to deliver silence.
Demurias retired all four batters he faced and hushed the Syracuse Jr. Chiefs faithful to close out an 8-6 Olean Oilers victory in game one of the 2016 New York Collegiate Baseball League Championship Series.
"I knew my opportunity was coming on the mound," Demurias said. "My job was just coming in sealing the victory for us and closing the door for our team to get this win."
One inning removed from a five-run Syracuse rally, the right-hander came out of the bullpen with two outs and the bases empty. He gave the Jr. Chiefs little chance. Hurling 16 pitches (14 of which were fastballs) he threw a dozen strikes, eventually fanning the side in the ninth.
"I was just trying to get ahead, throw strikes and let my stuff work for itself," the Miami, Florida native said. "I threw most of my fastballs low."
Trailing 8-1, ten Jr. Chiefs trotted to the dish in the seventh inning when the potential go-ahead run came to the plate. The rally stirred Syracuse cheering section.
VIEW MORE SUE KANE PHOTOS HERE.
Demurias stopped opposing momentum in its tracks.
"He was locating down in the zone," said battery mate and fellow Florida Gator, Mark Koloszvary. "It's always hard to hit. It's a big thing we preach at Florida is keep the fastball down. It's a lot harder. Everybody waits to get a fastball up. Just keep the fastball down and let it work."
Demurias used a breaking ball to end the game – a pitch that almost seemed unfair as he dropped his MPH by double-digits.
"I was pretty sure he was looking for the fastball," he noted. "I had it waiting to use for that last out."
"He was carving it up with the fastball," Koloszvary added. "We just thought maybe we could catch him off guard there with the breaking ball. They hadn't seen very many that inning."
How Demurias responded in the situation came as no surprise to Oilers coach Bobby Bell.
"Nothing is going to get in his head," Bell stated. "He's just locked and loaded, ready to go. He comes in and takes care of business."
Bell recalled a game during the recent college season when Demurias walked a batter against SEC rival Texas A&M.
"Once you walk someone they start yelling ball four," the fifth-year Oilers coach said of the opposing fans. "Then every ball you throw until you get someone out. He got up to seven. They were chanting ball seven before he threw a strike."
Demurias finished 2-for-4 with five RBI and two runs scored in Olean's 11-4 win over the Hornell Dodgers, Thursday night. He knotted the score in the sixth with a two-run double and cleared the bases with another two-bagger in the ninth as the Oilers claimed back-to-back NYCBL Western Division Championship Series titles.
Olean hosts Syracuse in game two of the 2016 NYCBL Championship Series. A 7 p.m. first pitch is scheduled Sunday night at Bradner Stadium.