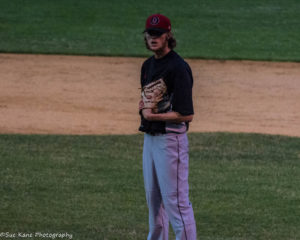 By PAUL GOTHAM
HORNELL, N.Y. — He was only supposed to throw two innings, and he didn't have his go-to pitch. None of that mattered to Shawn Dubin (University of Buffalo), Thursday night.
The right-hander allowed two hits over 5.1 shutout innings, and the Olean Oilers advanced to their second straight New York Collegiate Baseball League Championship Series with an 11-4 win over the Hornell Dodgers.
Dubin struck out five and walked one for his first win since June 19th.
"That was unbelievable," fifth-year Oiler coach Bobby Bell said. "He just locked in and grinded it out for us."
Dubin came out of the bullpen with the Oilers trailing 4-2, a runner on and two in.
"I knew they were going to get going at some point," Dubin said of his team's offense. "I needed to keep them (Hornell) where they were, and let the offense win it."
The right-hander ended the Dodger fourth with a pickoff at first before setting down the side in order in the fifth.
VIEW MORE SUE KANE PHOTOS HERE.
"He came out throwing gas," said Dubin's battery mate, Alex Griffith (University of Pittsburgh). "He really had his off-speed especially his curve ball was on fire tonight. When you can mix that in with the heater, it's hard to tell what can happen."
The Dodger fifth included an inning-ending bare-handed grab and throw across the infield by Oiler third baseman David Hollins (St. Bonaventure). A play that was featured on ESPN Sports Center's Top 10.
"I was mad I couldn't get to that ball," Dubin said. "I thought for sure that was going to be an infield single. He made a helluva play. That was a top 10 play. It's nice to know that's behind you when you're pitching. It just makes everything a little bit easier."
Dubin worked out of a second and third, one-out jam in the sixth. After issuing a walk to Tyler Burns (Trevecca Nazarene), Andy Brahier (Wisconsin-Osh Kosh) put runners in scoring position with a double to right center. Dubin induced a comebacker which led to an unconventional 1-3-6 double play to end the threat.
"I saw him get off second," Dubin said of Brahier. "But I just wanted to make sure the run didn't go home. It all happened so fast. I threw to first, and he happened to be too far off the bag."
Hornell's John Ricotta (Monroe CC) led the eighth with a first-pitch double to right center. The Dodger first baseman didn't get a chance to move from the bag. Dubin fanned the next three batters he faced.
"My slider wasn't really there tonight," Dubin explained. "That's usually my go-to pitch, but luckily my curveball was. I was able to keep them off balance a little bit."
"He was doing a great job of staying tall and getting downhill and really creating that action on his fastball," Bell explained. "That makes it tough for hitters to see."
The outing was the longest for Dubin since the start in late June. He suffered a non-playing injury to his throwing hand. He threw one inning during Olean's regular season finale.
"We haven't been able to use him too much," Bell noted because of the injury. "Put him in the last game of the season just to get him back fresh on the mound. Originally, I planned that we would get two innings out of him."
Olean advances to play the Syracuse Jr. Chiefs in the New York Collegiate Baseball League Championship Series. Game one is scheduled for a 7 p.m. start Saturday, July 30 at Onondaga Community College.
The Oilers are looking for back-to-back titles. Syracuse advanced to the championship for the first time since 2012 when the Jr. Chiefs swept the Niagara Power.