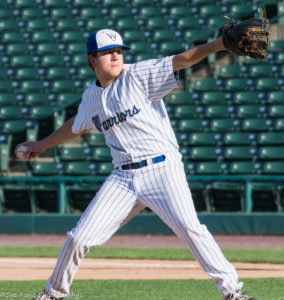 By PAUL GOTHAM
BINGHAMTON, N.Y. — Nick Lawlor outlasted some late fielding miscues, and the Webster Schroeder Warriors rallied to defeat the Ketcham Indians (I), 7-4 in the semi-final round of the New York State Class AA championships.
Lawlor struck out three and walked one for his second consecutive complete-game in the state tournament.  The senior right-hander took a 4-2 lead into the sixth inning when Ketcham capitalized on two Schroeder errors to tie the score.
"It doesn't faze him," Schroeder coach Matt Knight said. "He doesn't think about all that stuff. He just goes out and throws."
Lawlor escaped a two-on, two-out jam getting a routine fly ball to end the inning.
Zach Jenkins highlighted a decisive three-run seventh with a two-out RBI double.
"Our guys at the end of the lineup really came on at the end of the year," Knight stated. "Zach Jenkins has been solid throughout our whole sectional play."
Shane Marshall reached to lead the seventh when he was hit by a pitch. Clean-up hitter Sean O'Neill singled to center field, and Phil Ferranti moved the runners with a sacrifice bunt.
It looked like Lawlor would give Schroeder the lead when he sent a line drive to the left side of the infield, but Ketcham's third baseman Nick Nevins made a diving stop and threw out Marshall at home.
Smith alertly advanced on the play and eventually scored on a wild pitch. Josh Simons walked, and Tyler Candelaria capped the inning with an RBI single to center field.
"That's been the story of our whole season," Knight commented.  "We've played six extra-inning games and won five of them. Seems like we don't get flustered in those situations. We just keep playing the game. Sometimes we don't play them them clean. We got tough kids. They find a way to win."
O'Neill singled and scored in the second when Simons delivered a two-out infield single.
Justin Graham led the third with a solo shot. Smith walked and scored on a passed ball later in the inning.
Schroeder made it 4-2 in the fifth. Marshall drilled a one-out triple to center and scored on Ferranti's two-out opposite field three-bagger.
The Warriors advance to the state championship where they will play Shenendehowa (II). The Plainsmen twin duo of Ian and Ben Anderson were both taken in this the 2016 Major League Baseball Draft. The Atlanta Braves chose Ian with the third pick of the draft. The Toronto Blue Jays chose Ben Anderson in the 26th (792) round.