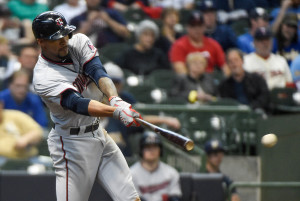 Courtesy of RedWingsBaseball.com
Pawtucket, R.I. – The Rochester Red Wings got a pair of home runs and another quality start from Logan Darnell as they took the series three games to one with a 3-2 win against the Pawtucket Red Sox.
Darnell (3-3) delivered his fourth quality start in six outings, going seven innings and allowing two runs on two hits with three walks and a strikeout.
The Red Wings (15-16) tied a season-high with two homers in the game coming from Byron Buxton and Kennys Vargas.
Rochester got on the board first as Buck Britton whacked a double to the wall and right and was sacrificed over to third. Buxton then came up with a quality at-bat that lasted nine pitches and ended in a 4-3 groundout but Britton scored from third to make it 1-0 against PawSox (14-16) starter Eduardo Rodriguez (0-2), who made his third rehab start.
Darnell faced the minimum through the first two innings with the only batter to reach base being Rusney Castillo. Darnell used his swift pickoff move to end the bottom of the second.
In the third Darnell yielded a pair of walks and eventually had runners on the corners, but he managed to force a flyout to right to keep nothing but zeros on the board for Pawtucket.
Vargas stepped to the dish to leadoff the fourth against Rodriguez, taking the first offering opposite field to right for a line drive homer, his second of the season, to make it 2-0 Red Wings.
The Paw Sox (14-16) ended the hitless drought and tied the game in the bottom of the fourth. Chris Marrero singled and Justin Maxwell followed with a towering two-run blast to deep center to tie the game 2-2.
Buxton scored the Wings third run in three innings with one swing. He took a high fastball to right field for his third homer of the road trip to put the Wings back out front 3-2 in the top of the fifth.
Rodriguez exited the game in the top of the sixth after throwing 93 pitches. He went 5.2 innings for the PawSox and gave up three runs on six hits with a walk and a pair of strikeouts.
Darnell settled in after the Maxwell homer. He retired the side in the fifth, sixth and seventh frames and retired 11 straight through the seventh before giving way to Alex Wimmers for the eighth inning.
Wimmers worked scoreless frames in the eighth and ninth to earn the first Triple-A save of his career.
James Beresford was the lone Wing to have more than one hit, finishing 2-for-4. He has reached base safely in 11 straight games.
Next Home Game: Monday, May 9 vs. Gwinnett (Braves), 7:05 p.m.