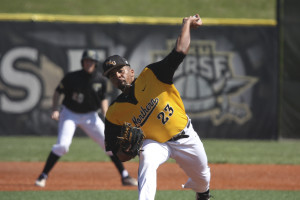 Courtesy of NKUNorse.com
HIGHLAND HEIGHTS, Ky. – Sophomore left-handed pitcher Trey Ganns of the Northern Kentucky University baseball team has been named a Louisville Slugger National Player of the Week after striking out 14 batters in 7.2 scoreless innings pitched on Sunday, Collegiate Baseball announced. Ganns' performance led NKU to a 3-0 shutout win over Horizon League foe Milwaukee at Miller Park.
In addition to his NKU Division I program record 14 strikeouts, Ganns held the Panthers to just four hits, all singles. He struck out at least one batter in each inning including a stretch of five straight between the second and third innings. Just two baserunners advanced into scoring position against the Burlington, Kentucky, native.
The two-way player also helped lead NKU offensively with an RBI and a run scored to account for two of NKU's three runs.
His 14 strikeouts are the most for an NKU pitcher since the 2011 season as the sophomore came just three strikeouts shy of tying NKU's all-time program record 17 strikeouts set by Kyle Pfetzer in the 2000 season.
Ganns made his fifth start and sixth overall appearance on the mound on Sunday, picking up the win to improve his record to 3-2. The sophomore owns a 4.22 ERA with 30 strikeouts in 32.0 innings.
The Norse (16-29, 5-17 Horizon League) return to action when they travel to UIC for a Horizon League doubleheader on Saturday, May 7 at 1:05 p.m. ET. The games are set to air on ESPN3.