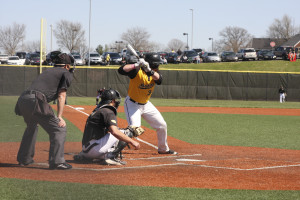 Courtesy of NKUNorse.com
MILWAUKEE – Sophomore Trey Ganns enjoyed a career night at Miller Park on Sunday, striking out a Northern Kentucky Division I program record 14 batters in 7.2 innings pitched to lead the Norse to a 3-0 shutout win over Milwaukee.
Ganns came just three strikeouts shy of NKU's all-time record and was vital on both sides of the ball, posting an RBI single and a run scored.
The sophomore struck out at least one batter in each inning including a stretch of five-straight between the second and third innings. The Panthers (20-20, 9-8 Horizon League) managed just four hits against the southpaw who walked three.
Aric Harris contributed 1.1 scoreless innings with a strikeout to preserve the shutout and earn his second save of the season.
Ganns' RBI single down the left-field line gave NKU a 1-0 lead in the top of the first.
The Norse (16-29, 5-17 Horizon League) struck again with two runs in the top of the sixth when Ganns and Logan Spurlin crossed home on a two-run double off the bat of Will Haueter for the 3-0 result.
Overall, Northern Kentucky out-hit Milwaukee, 9-6. Quint Heady went 2-for-5 while Spurlin went 2-for-4 with a run scored.
The Norse return to action next weekend when they travel to UIC for a doubleheader on Saturday, May 7, beginning at 1:05 p.m. ET. They will then turn around to take on Valpo in a doubleheader on Sunday.
NORSE NOTES:
· Ganns, who posted his second-straight outing of seven or more innings, struck out the most batters since Dave Middendorf fanned 15 in an NCAA Tournament game against Quincy on May 19, 2011. NKU's program record is 17, set by Kyle Pfetzer on March 13, 2000.
· Harris has allowed just one run in his last 11.1 innings of relief, spanning 10 appearances. He leads the pitching staff with a 2.70 ERA in 23.1 innings pitched.
· The Norse posted their first shutout win since they defeated Lipscomb, 2-0, on Sunday, April 27, 2014.