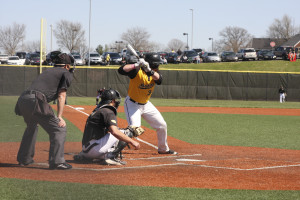 Courtesy of NKUNorse.com
MILWAUKEE –The Northern Kentucky University baseball team fell to Milwaukee, 6-0, at Henry Aaron Field on Friday. In anticipation of rain on Saturday afternoon, Northern Kentucky (15-28, 4-16 Horizon League) and Milwaukee (19-19, 8-7 Horizon League) agreed to move game two's first pitch to 1 p.m. ET instead of the originally scheduled 2 p.m. start.
Pat Kelley and starter Charlie Jerger combined for a season-high tying 10 total strikeouts as Jerger made his first start as a Norse and tossed a career-high 5.2 innings.
Quint Heady, Tito Montgomery and Kyle Colletta posted hits in the contest.
Kelley tossed 2.1 scoreless relief innings to close the game, but the Norse could not put together a late rally as they struggled to break through Milwaukee starter Brian Keller who threw a complete game shutout.
Meanwhile, the Panther offense tacked on two runs in three different innings for the 6-0 result.
The series continues on Saturday with the adjusted 1 p.m. start time. The finale will be played on Sunday at approximately 6 p.m. at Miller Park following the conclusion of the Brewers/Marlins game.
NORSE NOTES:
· Heady extended his hit streak to six games on Friday. The senior has gone 7-for-17 in that span.
· Jerger and Kelley matched NKU's season-high 10 strikeouts that was set on March 6 against Western Illinois.