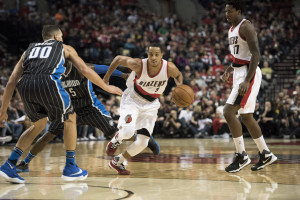 Courtesy of LehighSports.com
BETHLEHEM, Pa. – Former Lehigh men's basketball standout and current Portland Trail Blazers rising star C.J. McCollum '13 has been named the Kia NBA Most Improved Player, as announced on Friday. The award recognizes an up-and-coming player who has the improved dramatically from the previous season or seasons.
McCollum received 101 first-place votes and 559 total points from a panel of 130 sportswriters and broadcasters throughout the United States and Canada.
McCollum averaged a career-high 20.8 points per game during the regular season, a 14-point increase from last season. That improvement was the largest increase for an NBA Player since the 1989-90 season. Along with points per game, McCollum also set career highs in his assists per game (4.3) and rebounds per contest (3.2). The Canton, Ohio native scored in double figures in 79 of his 80 regular season games this season. He becomes the third Portland player to win the award, joining Zach Randolph (2003-04) and Kevin Duckworth (1987-88).
McCollum finished the year ranked in the top 10 in the NBA in three-pointers made (197) and three-point percentage (41.7) to help lead the Blazers to the fifth seed in the Western Conference. McCollum and Blazers' superstar point guard Damian Lillard combined for the second-highest scoring backcourt (45.9 points per game) in the NBA.
A third-year guard, McCollum graduated Lehigh in 2013 with a Bachelor of Arts in Journalism. A four-year starter for the Mountain Hawks, McCollum was the Patriot League Rookie of the Year and a two-time Patriot League Player of the Year. McCollum is best known for his performance in the 2012 NCAA Tournament when he posted 30 points, six assists and six rebounds in Lehigh's upset of the No. 2 seeded Duke Blue Devils. McCollum stands as the Patriot League's all-time leading scorer with 2,361 career points.
Off the court, McCollum has put his Journalism degree to work as he actively contributes to The Players Tribune, a website that gives athletes a platform to share experiences and opinions. In January, McCollum launched a program called "CJ's Press Pass" that allows high school students to get a feel for what it's like to cover the NBA as a reporter.
Lehigh Athletics takes pride in improving oneself through its #BetterMeBetterWe initiative, with McCollum as the most visible example. McCollum entered Lehigh as an undersized guard and by the time he was a senior, developed into an NBA lottery pick. He's continued the growth in his NBA career.
McCollum is currently in the midst of the first round of the NBA Playoffs. The Trail Blazers trail the Los Angeles Clippers 2-0 in the series with Game 3 set for Saturday night in Portland. Opening tipoff is set for 10:30 p.m. ET on ESPN.