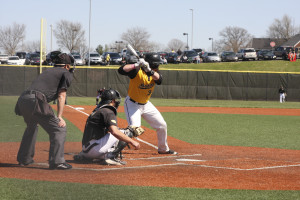 Courtesy of NKUNorse.com
HIGHLAND HEIGHTS, Ky. – The Northern Kentucky University baseball team fell to UIC at Bill Aker Baseball Complex on Sunday by a final score of 6-3 after the Flames used a four-run seventh inning to break a 2-2 tie and put the game out of reach of the Norse.
NKU (12-20, 2-10 Horizon League) plated one run in the bottom of the ninth after Mike Moffatt singled to lead off the frame. Pinch hitter Ty Amann singled Moffatt home, but the Norse were unable build upon their comeback effort.
Moffatt and Tito Montgomery each went 2-for-4 at the plate. NKU's three RBI were split among Logan Spurlin, Quint Heady and Amann.
The Norse took a 1-0 lead in the bottom of the first when Conor Ledger led off the inning with a double, advanced to third on a Kyle Colletta sacrifice bunt and scored on a Spurlin groundout.
UIC (13-17, 5-3 Horizon League) knotted the game at one run apiece in the next inning and took a 2-1 lead on an Alex Dee RBI single in the fourth.
The one-run edge stood until the bottom of the sixth when Heady singled to score Spurlin from second and briefly lock the game at 2-2.
The next inning saw UIC plate four runs on one hit, a miscue and a pair of walks to put the game out of reach for NKU.
Colletta pitched the final 2.2 innings. The right-hander held UIC to a single hit and struck out two.
Starter Tyler Miller pitched 5.1 innings for NKU and surrendered six hits and two runs in a no-decision.
The Norse return to action next weekend for a three-game set at Youngstown State. The series begins on Friday, April 15 at 5:30 p.m.
NORSE NOTES:
Including his 8.0-inning outing against Miami (Ohio)

on Tuesday

, Miller totaled 13.1 innings of work on the week with just three runs allowed.
Spurlin has reached base safely in 16-straight games and has reached in 25 of his 29 games played this season.
Montgomery went 3-for-7 with a triple and a double in the three-game set against UIC. He drew five walks to become the team leader with 14 walks this season.