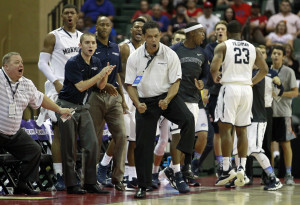 Courtesy of MonmouthHawks.com
WEST LONG BRANCH, NJ – Monmouth basketball assistant coach Sam Ferry has been named to the Under Armour 30-under-30 Team as part of the NABC's Guardians of the Game Awards. The 30-Under-30 Team recognizes 30 men's basketball coaches across the country that are under the age of 30.
30 coaches nationally received this award, and Ferry is the only recipient amongst MAAC coaches and is one of two coaches in New Jersey to be honored, joining Princeton's Brett MacConnell.
Ferry played an integral part on this year's success, with the Hawks winning a program-best 28 games and leading the nation in road/neutral wins with 17. He recently completed his fifth season as Monmouth, and has been on staff all five seasons under head coach King Rice.
Ferry joined the staff with Rice as the Director of Operations in 2011, and was promoted to the position of assistant coach prior to the 2013-14 season. He arrived at Monmouth after serving as the Director of Video Operations at Vanderbilt with Rice. He worked four seasons as a student manager with the Commodores under Kevin Stallings, graduating from Vanderbilt in 2010.