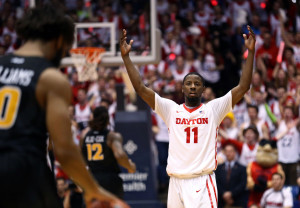 By PAUL GOTHAM
BROOKLYN, N.Y. — Seeing the ball go through the basket. Coaches and players frequently mention this aspect of the game, and the confidence created. For the University of Dayton Flyers, seeing leather through twine more often than not involves the hands of Scoochie Smith.
"As he goes, we'll go," UD head coach Archie Miller said recently. "When we need a big basket or when we need to get organization, he's obviously the key."
The numbers speak to Miller's point. Smith's 4.3 assists leads UD, but his assist rate (per KenPom) of 27.1 doubles that of any teammate. Figure in that the junior point guard nets 11.7 a game (or 16 percent of UD's points), and you get the point. Kinda.
What the numbers can't explain is Smith's ability to deliver when Dayton needs it most.
Last Saturday, Dayton missed its first eight attempts behind the three-point arc in an eventual 82-79 loss to Saint Joseph's in the Atlantic 10 Championship semi-final. Smith connected on UD's first three at the 7:06 mark of the first half.
After his teammates saw the ball go through the net, the Flyers hit 6 of their next 13 attempts from long range. It was a game in which he handed out a career-high 11 assists. Four of those dimes resulted in triples. Only one three happened without Smith's aid. His assists resulted in 26 Dayton points. Add in the 14 he scored, and Smith had a hand in 40 of the Flyers 79 points.
"At this time of year if you have a point guard that's playing that way that the guys look at and know that they trust him, he's going to make guys better," Miller explained. "He's doing exactly what he's supposed to do."
Smith's impact wasn't as obvious in Friday's quarterfinal win over Richmond. In a 15-point game it may be difficult to pinpoint any crucial possessions, but late in the first half Richmond scored five straight cutting the UD advantage to 11. The Flyers had three straight empty possessions and were in danger of handing momentum to the opposition going into the locker room. Scoochie took it upon himself and finished a drive in traffic.
Early in the second half, UD faced a similar situation with turnovers on back-to-back trips down the floor and mishandles on three out of four. In the middle of those empty sequences, Scoochie used a crossover dribble to get in the lane for another layup.
"That gives everybody else confidence," Miller noted. "I think him leading us into the tournament was good."
To better understand Scoochie's influence might require a glance at a time before the Bronx native arrived on Edwin C. Moses Boulevard.
UD has hit 215 triples in 32 games so far this season. The year prior to Smith's arrival, the Flyers connected 182 times from long range in 31 games. Per Hoop-Math, the current Flyers are assisting on 90.7 percent of those threes. The 2012-13 version handed out dimes 88.5 percent of the time. Beyond that, Dayton's assisted baskets at the rim have also increased from 41.8 to 50.5 percent.
It doesn't seem like much until one considers Dayton has won six games this season by three points or less or the difference between now and four seasons ago.
To give Scoochie all the credit for this would be irresponsible. So, too, would it be to ignore his contribution.
"He's definitely our engine," Miller stated. "I've been saying that."
Dayton's next stop is St. Louis and a meeting with No. 10-seed Syracuse in the first round of the Midwest Region. It will be UD's eighth NCAA Tournament game with Smith running the point. Last season, the 6-2 point guard handed out more than four assists a game while scoring nearly 13.
A 12:15 p.m. tip time is scheduled on Friday.
Can you hear the whistle blowing?