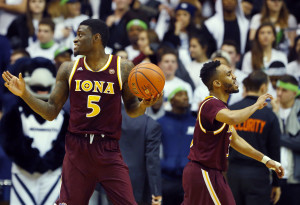 Courtesy of MAACSports.com
ALBANY, NY – Iona College, the number two seed in the MAAC Men's Basketball Championship, defeated third seeded Siena College 81-70 to advance to the championship final tomorrow night at the Times Union Center. The Gaels will compete in its fourth straight championship final game.
A.J. English posted a game-high 29 points on nine-for-19 shooting and connected on five three-pointers. He added five assists and three rebounds. Isaiah Williams posted a double-double with 23 points and 11 rebounds. Iona College posted a 53% field goal percentage, hitting on 31-for-59 shots in this semifinals win.
The Siena College Saints had four players score in double-digits with Nico Clareth as the team-high scorer. Clareth finished with 18 points, Brett Bisping added 16, Lavon Long had 14 points and Javion Ogunyemi, the 2016 MAAC Men's Basketball Defensive Player of the Year had 13 points in the defeat.
The 2016 MAAC Men's Championship final between Monmouth University and Iona College will take place tomorrow onMonday, March 7 at 7:00 p.m. and will air live on ESPN with the winner earning the leagues automatic bid to the NCAA Championship.