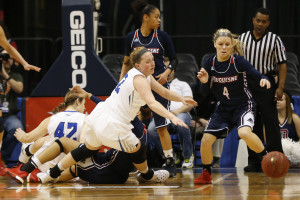 Courtesy of Atlantic10.com
RICHMOND, Va. – April Robinson's three-pointer with 22.3 seconds remaining sent the third-seeded Duquesne Dukes into their first-ever Atlantic 10 Women's Basketball Championship with a 56-52 victory over second-seeded Saint Louis in a hard-fought second semifinal Saturday afternoon at the Richmond Coliseum.
"On a day where we didn't shoot the ball well, we played against a very good team and found a way to win," said Duquesne head coach Dan Burt. "There were so many unheralded performances by our group. Now, we get to play a team that beat us earlier, and to me has a top five draft pick. What greater challenge could you have this time of year?" 
Robinson, facing off against fellow Atlantic 10 Co-Player of The Year Jackie Kemph of Saint Louis, scored twelve points, adding four assists and three steals. Freshman Kadri-Ann Lass led the Dukes (27-4) with fifteen points and nine rebounds, while Deva'Nyar Workman registered ten points and eight rebounds.
"No matter the scoreboard, we continue to play Duquesne basketball," said Robinson. "The shot at the end, I was a little unsure whether to shoot it or not, but I got it. All fourteen girls were estatic in the locker room, the loudest I've heard them. And they are some loud girls." 
Saint Louis (24-7) fell behind early 9-0, but settled down, taking a 25-21 halftime lead after a second period which saw both teams shoot less than 30 percent from the field. Olivia Jakubicek led Saint Louis with fifteen points, while Kemph added eleven, and Sadie Stipanovich and freshman Jordan Frantz had eight apiece. 
"We have had a remarkable year. Saint Louis has never been in this game. Where we've come this year is amazing," said Billikens head coach Lisa Stone. "We defended well enough to win today, and I told our team we had a chance, even with a rough start. I said keep playing. We guarded our tails off. We had just a few shots that wouldn't fall."
"This week leaves us all wanting more. Come the postseason, we're going to go all out," Kemph noted. "With so many players back from last season, we've grown so much as a team, and we have more basketball left, and that's good." 
Kemph, as just a sophomore, became third all-time in Saint Louis history in assists with 392, and second in single-season points for the Billikens with 504.
Duquesne advances to face defending champion George Washington in the championship game, which will tip off just after 12 noon Sunday.
The Colonials will look for their sixth overall Atlantic 10 title, while the Dukes attempt to cut the nets for the very first time.