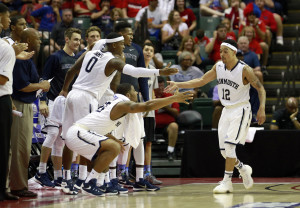 Courtesy of MAACSports.com
ALBANY, NY – The first quarterfinal matchup of the 2016 MAAC Men's Basketball Championship saw the number one seeded, Monmouth University Hawks defeat eighth seeded Rider University, 59-48, at the Times Union Center.
The Hawks were led by the 2016 MAAC Men's Basketball Rookie of the Year, Micah Seaborn, and junior center Chris Brady. Seaborn finished with 14 points and Brady added 12 points and nine boards. Justin Robinson, the MAAC Men's Basketball Player of the Year finished with nine points, six rebounds and three assists. Robinson set a new MAAC Men's Basketball Championship record with eight steals, breaking the previous record of six, held by multiple players.
For the Broncs, Xavier Lundy led his team with 14 points including four made three-pointers. Rider went on a 10-0 run in the second half around the ten minute mark to pull within six of the Hawks, but Monmouth was able to break the run and would go on to secure the win, advancing to the semifinals in the process.
Monmouth University now moves onto the MAAC Men's Basketball Championship semifinal to take on the winner of fourth seeded Saint Peter's University and fifth seeded Fairfield University, which takes place on Saturday, March 5 at 2:30 p.m. onESPN3. Monmouth's semifinal matchup against either the Peacocks or Stags will be on Sunday, March 6 at 4:30 p.m. onESPN3.
The 2016 MAAC Men's Championship title game will take place on Monday, March 7 at 7:00 p.m. and will air live onESPN with the winner earning the leagues automatic bid to the NCAA Championship.