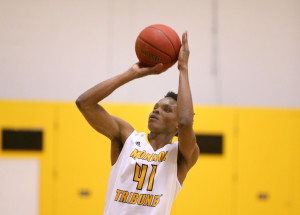 By PAUL GOTHAM
WARWICK, R.I. — The Monroe Community College Tribunes outscored Community College of Rhode Island (CCRI) 20-4 over the final seven minutes to claim the NJCAA District II Division championship, 69-49 at Vincent A. Cullen Field House, Saturday.
Coming out of a timeout with a 10-point lead the Tribunes forced CCRI out of their zone defense.
"Once they went man to man that plays to our strength," Monroe head coach Jerry Burns said. "I think we scored nearly every single time after that."
Isaiah Davis (Elizabeth, N.J.) connected on a 3-pointer from the left corner. Damon Miraud (Elizabethtown, N.J.) finished a layup, and Dykweil Bryan (Brooklyn, N.Y.) used a spin dribble in the lane before going to an upfake and scoop for two to put the game out of reach at 63-48 with less than three minutes remaining.
"It was five out," Bryan explained of the offensive set. "There was no one under the rim. I just knew I had to get him with the first hard dribble and just catch him with a spin. I knew I had to go with the spin, so it was concentrate and finish."
Bryan scored eight of  his 10 points in the decisive run as the Tribunes advanced to the national tournament for the first time since 2013.
"We got five players on the court who can make a play," the sophomore guard commented. "Once you got five guys on the court making plays, it makes it easier for the team… I trust my teammates to make a play. Making the play, that's all that matters."
Leading by one at halftime, Monroe scored on 18 of 32 second-half possessions and never trailed in the second stanza.
"The guys understand what needs to be done," Burns stated. "There are four or five of them yelling for five, six passes before a shot. You don't need to be a rocket scientist. That's what you need to do, and they did it."
While the Tribune offense found its rhythm, the defense proved nothing short of disruptive holding CCRI 35 points under their season average including just 18 second-half points on five field goals in the final twenty minutes.
"One of the things we talked about was playing into the ball and not giving up any easy shots," Burns stated. "I think we did a pretty good job. Some of those shots were in transition when we lost guys. Overall, we did a really good job of getting hand up and contesting a lot of their shots."
CCRI came in hitting 9.8 3-pointers a game. MCC held CCRI to seven 3s in its own gymnasium. The Knights hit just three of 13 attempts in the second half.
"It wasn't anything specifically that we did," Burns said. "It was just our energy. I thought we had nervous energy in the beginning, and the second half I thought we just got going and made some easy shots. Our press got working a little bit better."
Romaine Thomas (Bronx, N.Y.) paced the Tribunes early. The 6-8 sophomore forward scored 10 of his 15 points in the first 12 minutes of the contest. He followed his own miss for a rebound and putback to tie the score at six. His catch-and-shoot triple from the left wing made it 12-8 game.
Thomas hit a jumper from the baseline as the shot clock expired for a 14-10 advantage, and his two free throws gave Monroe a 22-21 edge.
"He played well," Burns said. "We expect him to play well. He's such a hard matchup. He can shoot the three. Other teams don't know what to do with him. To me he was the best big guy out there. He did  a really good job."
Region 3 Tournament MVP Izaha Jackson (Brooklyn, N.Y.) connected with a pull-up jumper before the halftime buzzer to give Monroe a lead it never surrendered at 32-31.
Miraud, who finished with eight points and six rebounds, went to the bench with 10:52 remaining after picking up his fourth foul. Burns sent him back into the game with 7:20 to go.
"A guy picks up his fourth foul, and I've made this mistake before," the 25-year coach explained. "You sit him, and he gets cold. He goes back in, doesn't have any flow and then he fouls. He's gone. I've tried to make it a point to sit him for four minutes, put him back in. He's still got a little bit of sweat, and it's worked for us."
Davis led Monroe with 16 points. ShaQuan Bretoux (Bridegeport, CT) had seven points.
CCRI's Edvaldo Ferreira (Cape Verde) finished with a game-high 17. Adrian La Fleur (Sydney, Australia) added 15, and Elijah Vazquez (Woonsocket, R.I.) had 11.
Monroe outrebounded CCRI 33-25.
The black and gold also won titles 2005, '09, and '10 to go with the 2013 championship. The Tribs also earned a bid to the national tournament in 2007. Burns led MCC to the national tournament in 1993 and '94.
CCRI advanced to the national finals in 2012.
The NJCAA Division II tournament will take place at the Mary Miller Center in Danville, Illinois from March 15-19.