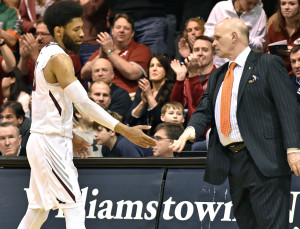 By PAUL GOTHAM
Maybe Phil Martelli is on to something.
With 21 years at the helm of the Saint Joseph's Hawks (24-5/13-3) men's basketball team, Martelli is the dean of Atlantic 10 coaches. He carries 399 career wins with him into Wednesday night's game against the St. Bonaventure Bonnies (24-7/12-4) at the Blue Cross Arena in Rochester, New York. His Hawks have won 20 or more games nine times under Martelli's guidance.
Martelli's 2015-16 squad includes Atlantic 10 Player of the Year candidate, DeAndre Bembry. When asked his opinion about who is most deserving of the conference's top honor, Martelli redirected:
"I don't know. I think that comes at the end. I've never been successful campaigning. As long as everybody that votes is looking at basketball, I'd put his game down against anybody else in this league. I think there's probably four or five candidates, he's certainly one of those as is Isaiah Miles.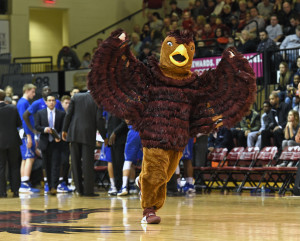 "I hope they don't go to a caucus to split the vote. I'm not really vibing with the country on this thing here. It is an election year. I got in trouble one other time. I'm not making a political statement, I'm just scratching my head. We have better choices for the Atlantic 10 Player of the Year than we do right now for President, and I'll leave it at that."
About that Hawk
Some in attendance Wednesday night will get their introduction to Saint Joseph's famed mascot: the Hawk. Be prepared. If you are waiting for the Hawk to stop flapping its wings, Saint Joseph's has a message for you.
Meet Phil Martelli's grandson
A game against Saint Joseph's wouldn't be complete without meeting Philip Stephen Martelli. Read the Bona Blog's interview here.
A 7 p.m. tip off is scheduled.