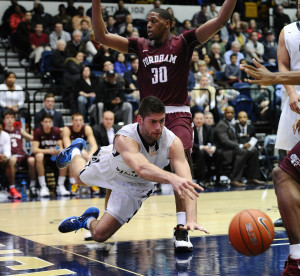 By PAUL GOTHAM
With six games remaining in Atlantic 10 play, the Fordham Rams are one win shy of their conference total (4) of a year ago. Since starting the season 9-1, Fordham has trudged through an unforgiving A-10 slate that has produced three single-digit setbacks (two last week to Richmond and St. Bonaventure) but has also seen the Rams fall by 20 or more on three other occasions.
"We really struggle to compete in this league," Fordham head coach Jeff Neubauer said during the A-10's weekly tele-conference. "Obviously there are great teams in this conference, and that's part of it. The fact that we literally we're able to get to end-of-game-situations against Bonaventure on Wednesday and over the weekend at Richmond, we really look at it as a positive.
"If our program was in a little bit better of a place, we would win both of those games. We were in position to win both of those games. However, we really do feel like we've improved to get to a point where we've been able to compete in this league with very good teams."
Throughout the season, Ryan Rhoomes has remained a source of consistency.
The 6-8 forward leads Fordham with 14.3 points and 8.6 rebounds a game. But those numbers only tell part of the story.
A year ago, Rhoomes shot 55.4 percent from the floor and scored 6.4 a game. This season, the Jamaica, New York native takes has upped his attempts from 4.5 to 8.8 a game, and yet he has increased his accuracy nearly 15 percent.
The success has created a new dynamic for the senior.
"We've seen are some double teams," Neubauer stated noting the post traps used by Saint Joseph's and UMass during recent games. "That's just something that he has not been accustomed to."
Per KenPom, the Rams have used Rhoomes on nearly 10 percent more possessions (12.3 in 14-15 to 22) than a year ago. Despite the increased touches, Rhoomes has decreased his turnover rate from 20.3 to 17.6.
"One thing that we have dealt with is people have fronted him," Neubauer explained. "Our guys have really worked to improve as passers and gotten him the ball."
His field goal percentage of 66 (134-for-203) ranks seventh in the nation. At the same time, Rhoomes has increased his assists from 0.8 to 1.2.
"He's a good passer," Neubauer stated. "He has thrown good passes when trapped. That is one thing he has had to adjust to."
Fordham (12-11/3-9) hosts UMass (11-13/4-8) on Wednesday. The Minutemen have won two straight and three of four. Fordham beat UMass in overtime, 78-72 when the two teams met on January 30th. A 7 p.m. tip off is scheduled. The game will be televised on ASN or can be viewed online here.