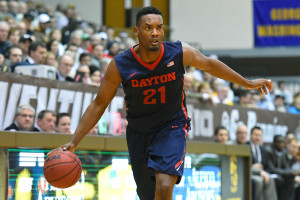 By PAUL GOTHAM
Trailing by two with less than a minute remaining in the game, Scoochie Smith used the dribble to get inside the paint against the Rhode Island Rams. The University of Dayton Flyers (21-3/11-1) point guard drove under the basket, left his feet and found teammate Dyshawn Pierre on the opposite side of the floor with a diagonal pass.
Pierre made a clean catch behind the arc near the top of the key. The Rhode Island defense was in recovery mode, but UD's senior forward gave up an open look at the basket to make the extra pass.
"It's the number one thing that we've focused on since conference play has started," Dayton head coach Archie Miller said during the Atlantic 10's weekly tele-conference. "The fact that he is able in the biggest moment, of the heat of the battle to not think twice to make the extra pass sorta shows who he is as a player."
Pierre fed Darrell Davis in the left corner for the game winner with 26 seconds remaining as Dayton defeated Rhode Island 68-66 for its ninth straight win.
"We talk about it every day and what we value means something to these guys," Miller added. "They trust one another."
Pierre finished the game with a team-high 17 points. He connected on 5-of-11 shots from the including 1-of-2 behind the arc. The assist was his second of the night.
"As our team continues to evolve here during the course of the season, and we continue to do things that's the one staple offensively that we can never lose which is our unselfishness and our ability to think about the other guy. I talk about it a lot. Our guys probably get tired of me talking about it. To me it's the single biggest reason we'll be successful if we're willing to sacrifice."
Davis netted 11 on 4-of-5 shooting and connected on both of his attempts from long range.
"We have a lot of guys that can make plays. We have a lot of guys that can do things."
The win was the second of the week where the Flyers erased a late deficit. On Tuesday, UD came back from 10 down in the last five minutes to defeat Duquesne, 76-74.
"To our kids' credit there were some really tough moments in both games where you're looking for your team in certain times to show what they're made of," Miller noted. "Last week was really a great time for our guys what it's going to take coming down the home stretch and finish this season off the right way."
Dayton plays at Saint Joseph's (21-4/10-2) on Wednesday. A 6 p.m. tip off is scheduled. The game will be televised on the CBS Sports Network.