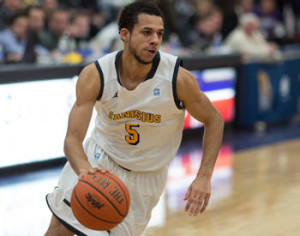 Courtesy of GoGriffs.com
Canisius sophomore Kassius Robertson scored a game-high 19 points, while junior Keifer Douse added a career-high 12 points and six rebounds to help lead the Golden Griffins to a 67-61 win over Rider Sunday afternoon in the Koessler Athletic Center. The win, which ended Canisius' four-game losing skid, improved the Blue and Gold to 11-14 overall and 6-8 in the MAAC, while Rider fell to 10-15 overall and 6-8 in league play.
The Griffs had four players post double-figures in the scoring column, led by Robertson, who drained four 3-point field goals and added three rebounds to his final stat line for the day. Douse scored the Griffs' first six points of the game and his six rebounds also mark a career-high. Sophomore Cassidy Ryan came off the bench and added a career-high 11 points to go with four boards in 17 minutes, while senior Malcolm McMillan chipped in 10 points and two assists to the winning effort. For the game, Canisius shot 43.6 percent from the field, 36.4 percent from 3-point land and 68.8 percent from the free-throw line, while holding the Broncs to 39.2 percent from the floor and 19.2 percent from 3-point range.
Senior Kahlil Thomas had 19 points and eight rebounds for Rider, while junior Jimmie Taylor was good for 12 points and a game-high nine boards. Rider held a 41-26 advantage on the glass, but the Griffs forced Rider into 17 turnovers, which the Blue and Gold turned into 20 points.
How It Happened:
• Rider led 14-8 6:52 into the contest, but back-to-back 3-pointers from Ryan evened the score at 14-14 with 10:42 left before halftime.
• Rider held a five-point cushion at 21-16, but Canisius took control of the game with a 16-3 run over the game's next5:11, capped by a pair of made free-throws by McMillan with 2:18 left before intermission. In that run, Robertson had seven points and McMillan accounted for five of the Griffs' points.
• Canisius led at the half by a 34-30 score, but Rider out scored Canisius 7-2 in the first 2:08 of the second stanza to take a 37-36 lead with 17:52 left on the game clock. Canisius scored on its next possession, a lay-up by Douse, to start a 14-0 Griff run over the next 5:13. In that run, senior Jamal Reynolds had four points and Robertson and Ryan each drilled a 3-pointer.
• Late in the game, Rider was able to cut the Canisius' cushion to just three at 62-59 with 1:54 left to play, by a traditional three-point play by McMillan doubled the Griffs' margin to six at 65-59 with 20 seconds left. Taylor made a pair of free-throws for Rider with 10 seconds left to make the score 65-61 in favor of Canisius, and junior Phil Valentiwas able to ice the game for the home team with two made free-throws with 9.3 seconds left on the clock.
Beyond the Box Score:
• Canisius was credited with 12 assists on 24 makes from the field, with five different players recording two assists in the win.
• The Griffs, who entered the game as the MAAC's leader in fewest turnovers per game, were charged with just seven turnovers in the win, the fewest turnovers for the team since Jan. 17, at Quinnipiac.
• Rider shot just 39.2 percent from the field, the lowest field goal percentage for a Canisius opponent this season. Additionally, the Broncs' 19.2 percent effort from 3-point land is also a season-low for a Canisius opponent.
• After shooting 75 percent or better from the free-throw line in their last three games, the Griffs shot under 70 percent (68.8 percent) from the charity stripe for just the sixth time this year.
Quotes from Canisius coach Jim Baron
"We came in today looking to rev it up a little bit more than we've been doing recently. It is tough with so many new guys to the program to try and throw this system and playing up-tempo. It was easy to do it from the start. To maintain playing like that, it's a challenge. We came in today looking to push the ball and attack the basket. I thought that was a really pivotal part of the game."
"We did a good job on defense today. We had to play man, and then go zone, especially after Kevin [Bleeker] got some early fouls. I thought our defense did a good job stepping up. We were in-and-out of man, then zone, and it became a really gritty game. These are the kinds of games you need to win in this league. Tough, hard-nosed battles."
"I thought we got a great effort from our bench today. We got 16 bench points. We scored 20 points off turnovers and 15 second-chance points. Then we got nine fast-break points too. Those are the kinds of things that are real important for us. This was a very, very good win for us. It's going to take a collective group effort each and every night."
Additional Game Notes:
• This was the 34th all-time meeting between these two schools, with Rider now holding a 33-11 advantage in the series.
• The win for Canisius snapped Rider's three-game winning streak in the series.
• Douse has collected his career-high in each of the team's last two games. He had 11 points on Friday night in the loss to Iona.
• Robertson now has three or more 3-point field goals in a game 13 times this season. He leads the MAAC with 65 3-pointers this year.
• Valenti was credited with four steals in the win, which matched his career-high set previously this season in the three-overtime win over ULM.
• This was the 14th time in program history where Canisius has played on Super Bowl Sunday. The Griffs are now 5-9 before the "big game".
Up Next: Canisius will travel to play at Siena on Thursday, Feb. 11. Game time in Times Union Center is set for 7 p.m.The game will be broadcast on Time Warner Cable Sports Channel in New York State and ESPN3. The radio call can be heard on Timeless WECK 1230-AM and 102.9-FM in Buffalo and through GoGriffs.com. The M&T Bank Pregame Show will start at 6:40 p.m.