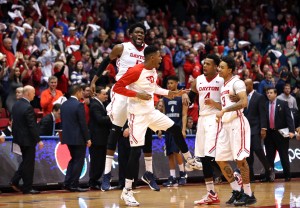 By PAUL GOTHAM
Opponents have had little success trying to outrun the University of Dayton Flyers basketball team. Efforts to slow down No. 24 Dayton (18-3/8-1) haven't worked well either.
The combination, though, has caused uneven performances by the Flyers.
Through 21 games, Archie Miller's squad has outscored their counterparts in fast break points on 14 occasions. The Flyers have won 13 of those contests. Only Chattanooga on December 12th defeated UD with the Flyers winning the fast break battle.
UD has scored as many as 26 fast break points in a game. That was in overtime against Arkansas. Eighteen in the opener versus Southeast Missouri State is the highest in a regulation game. Fifteen points on the break against Davidson is the high-water mark in conference play.
The Flyers have outscored an opponent by as many as 12 (North Florida) and in conference 11 (George Washington).
From that perspective, it appears Dayton dictates a quick tempo.
Per BB State, the Flyers average 69.6 possessions per game – 234 in the nation. Hardly a team that one would think could take over a game on the break. The Citadel plays the fastest rate in the country at 85.
Worth noting that only five of UD's opponents have scored double figure fast break points against the Flyers – one was Saint Louis, a game which Dayton won by 36 points.
"If we get out in transition, we can really, really have an impact on the game in that manner," Miller said during the weekly Atlantic 10 tele-conference. "As teams slow it down, they work the clock they play shorter possessions, and defenses try to shrink the clock and keep us in a half court, our guys can get antsy."
"Antsy" Miller described is his team's tendency for "shooting quick."
This is reflected in Dayton's 1.0534 points per possession. While Dayton's overall field goal percentage of 46.6 is 53rd in the country, their points per possession ranks 99th.
Consider this, though – in 10 conference games, the Flyers have played faster than their average on only four occasions:  against St. Bonaventure when the Bonnies trailed by 31 at one point and needed to increase possessions to try to erase a deficit. That game consisted of 75 possessions.
Against UMass, the Flyers had 72 possessions, but that is actually slow for a Minutemen squad which plays at a pace of 75.6 possessions (26th). In a win over George Washington, the Flyers saw a marginal increase of 70 possessions and in their conference opener at Duquesne, the Flyers possessed the ball 75 times – the Dukes average.
In other words, opponents are trying to control tempo to counter Dayton's lineup. The choppy pace has challenged the Flyers ability to adjust and their 13.3 turnovers (244th in the nation) are a result.
If recent games are any indication, the Flyers might have put the offensive struggles behind them
In their last two contests (wins over La Salle and Saint Louis), Dayton has scored just a combined 10 points on the break. The Flyers won those games by an average of 25 points. The difference now is Dayton has figured out their identity when the opponent slows the game.
"As you've seen us lately, we've been able to score points not just in transition but also in the half court by being able to play together with the ball movement, the player movement, the extra passing, guys being unselfish. You're seeing more of a fluid team that can play not only in the half but in the full court. "
It's a welcomed change for Miller whose team struggled in a 61-57 loss to La Salle.
"The first time we played La Salle, and our first three or four conference games, we were taking an average of 25 3-pointers a game," Miller explained. "I just think a lot of that had to do with trying to play fast, trying to score and not understanding that's not the way we win. We win by attacking the paint off the bounce or the pass and playing inside-out. We look to continue to spread you and move you and make the extra pass."
In the loss to La Salle, UD managed .833 points per trip down the floor. Since that game, the Flyers have scored above their average in five of six games.
"Once you start to get into the late season, you got to be able to execute and score in the half court and be able to play with one another. I'm glad that we're starting to figure that out at the right time."
Dayton travels to Fairfax, Virginia to take on George Mason (8-14/2-7), Saturday night. The Patriots are coming off a 78-74 win over Richmond. Mason averages 69.1 possessions a game. A 6 p.m. tip off is scheduled. The game will be televised on MASN. Fans can watch live on the internet through the A10 Network.