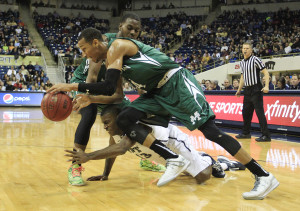 Courtesy of MAACSports.com
Player of the Week
Calvin Crawford, Manhattan
So., F, 6-8, 205, Middletown, NY/St. Thomas More (CT)
Crawford scored a career and game-high 20 points to go along with six rebounds and three blocks in leading Manhattan to a 78-71 win over MAAC-leading Monmouth. In the win, Crawford was 8-of-12 from the floor and notched 13 points after halftime. His reverse layup with less than three minutes to play after the Hawks had taken a four-point lead, helped ignite the Jaspers' game-ending 13-2 run. On the year, the sophomore is averaging 10.1 points, 4.0 rebounds and 1.2 blocks per game while shooting 46.5 percent (33-of-71) from the floor.
Rookie of the Week
Brian Parker, Marist
Fr., G, 6-2, 195, Cleveland, OH/Villa Angela St. Joseph
Parker averaged a double-double in Marist's two games this past week, with 20.5 points and 10.0 rebounds per game while also averaging 5.5 assists per game. He shot .483 (14-for-29) from the field, .667 (2-for-3) from three-point range and .846 (11-for-13) from the free-throw line. Against Fairfield on Jan. 22, he finished with 17 points, eight assists and eight rebounds while shooting 5-for-9 from the field and 7-for-8 from the free-throw line. His assist total tied a career high, and also tied the highest total by a Red Fox this season. At Monmouth on Jan. 24, Parker had a double-double with 24 points and 12 rebounds in addition to three assists. He led the Red Foxes in rebounds, and tied for the team high in points and assists. He shot 9-for-20 from the field, 2-for-3 from three-point range and 4-for-5 from the free-throw line. The double-double was the third of his career, and second in his last four games. For the week, Parker led Marist in points, rebounds and assists.