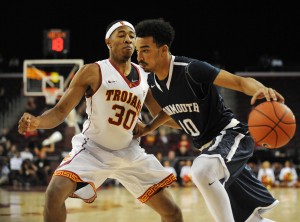 Courtesy of MAACSports.com
Player of the Week
Gr., G, 5-8, 160, London, England/Virginia Commonwealth/Christchurch School
In two Rider wins, Okereafor averaged 30.5 points, 6.5 rebounds, and 6.5 assists. In a double overtime win over Marist, he scored a career-high 38 points, setting MAAC records in free-throws made (25) and free-throws attempted (30). In the second overtime, Okereafor scored nine of Rider's 10 points to secure the Broncs first conference win. On Sunday in a win over Iona, Okereafor scored a team-best 23 points. Rider made nine of 10 foul shots in the final 2:24 to preserve the victory, with Okereafor making five of them. During the 2-0 week, he scored a total of 61 points, making 33 of 40 foul shots and grabbing 13 rebounds while compiling 13 assists.
Rookie of the Week
R-Fr., G, 6-5, 190, Arlington, TX/Prime Prep Academy
Seaborn topped a career-high Monday at Fairfield with 24 points, knocking in 9-of-16 and four threes to help propel Monmouth to a second-half comeback over the Stags. Seaborn added 14 more points in the Friday night win at Iona, shooting 6-for-9 from the field and 3-of-5 from deep. He dished out six assists against the Gaels and shot 60% on the week and 58.3% from three. He averaged 19.5 points per game in the pair of league road wins.