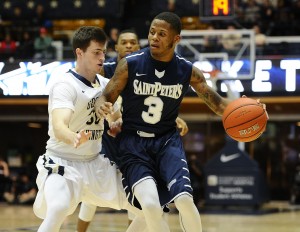 By PAUL GOTHAM
BUFFALO, N.Y. — Jim Baron doesn't wear excuses well, so the Canisius Golden Griffins coach looked understandably uncomfortable Saturday afternoon discussing his team's recent slide.
One week after an emotional victory at Marist, the Golden Griffins find themselves saddled with a three-game losing streak. Baron could not ignore the schedule.
"It's something I've been concerned about," the fourth-year coach said. "It's like a pro schedule. We haven't had any practices."
Four games in seven days – the quick turnaround caught up with the Griffs.
Less than 48 hours after shooting 50 percent from the floor in an eight-point home loss to Manhattan, the Griffs hit just 19 of 64 shots from the floor in a 70-53 defeat at the hands of the Saint Peter's Peacocks.
It's worse than that. In a two-and-a-half-minute spurt the Griffs hit five shots. The remaining 37 minutes produced a shield-your-eyes 14-for-58 effort.
Canisius came into the game leading the MAAC and 16th in the country scoring 84.9 points per game. Saturday, the Griffs shot a season-low 22.6 percent (7-of-31) in the first half and trailed 29-20 going into the locker room.
"We've hit them in the past," Baron said. "We had open looks. I just didn't think we would miss that many shots."
Saint Peter's, which came into the game shooting 41 percent, finished the game 25-of-49 (51 percent). This coming after Manhattan's 29-of-52 (55.8 percent) performance on Thursday night.
Kassius Robertson led Canisius. The sophomore guard connected on 5-of-13 from the floor including 3-of-8 from behind the arc for 15 points.
"We've been great on offense," Robertson said. "It's like it's taking away from our defense.
"Sometimes we'll have great outs for 10 seconds, we'll keep guys in front, keep guys in front, and then there's some defensive lapse within, like, the last five seconds of the other team's play and then it's a bucket. We just have to be focused the whole time and don't conserve ourselves. Sometimes it feels like we're conserving ourselves for offense. And we just gotta give all out on the defensive end."
Trevis Wyche came off the bench and  finished with a game-high 16 on 7-of-11 shooting – all but one attempt coming inside the arc. The junior guard routinely got into the lane for layups against the Canisius defense.
"We didn't do it today," Baron said. "I've got to take responsibility for that."
The Griffs rallied late in the second half.
Phil Valenti scored in the lane. The Canisius full-court press created a turnover on the ensuing inbound. Valenti took advantage and nailed a 3-pointer.
Quadir Welton converted one of two from the free throw line, but the Griffs scored back-to-back buckets. Robertson drove the lane off an inbound pass, and Jermaine Crumpton found a crease for a drive and layup.
Wyche responded with a deuce.  Crumpton followed with a trey. Canisius trailed 52-44 with 6:27 remaining in the game.
It was as close as Canisius would get.
The legs, which have allowed the Griffs to create turnovers and play up-tempo, looked weary.
Saint Peter's connected on their next three attempts. They pushed the lead back to 13 at 60-47 when Antwon Portley hit a catch-and-shoot three.
Jamal Reynolds finished with a game-high nine rebounds. The senior guard added 10 points. Crumpton finished with 10 as well.
Portley added 11 for Saint Peter's. Welton and Rodney Hawkins added 10 apiece.
Wyche handed out a game-high eight assists.
Despite being outrebounded 37-34, Canisius outscored Saint Peter's, 13-0 on second-chance points.
Saint Peter's had the advantage in the paint (34-22) and on fast break points (9-0). Saint Peter's also scored 12 points off turnovers to 10 for the Golden Griffins.
The schedule does't get any kinder for Canisius (7-9/2-4). The Griffs travel to play at Dartmouth on Tuesday. It's the first of four straight on the road with the Griffs playing at Manhattan (6-9/3-3) and Quinnipiac (5-9/2-3) next Friday and Sunday.
Saint Peter's (6-8/4-1) now sits in second place in the MAAC behind Iona (8-6/5-0). They host Marist next Sunday (Jan. 17).