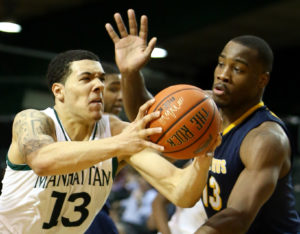 Courtesy of GoGriffs.com
Former Canisius men's basketball player Chris Manhertz officially signed with the New Orleans Saints as a member of the team's practice squad, as reported on Manhertz's personal Twitter feed on Sunday. A four-year letterwinner for the Golden Griffins, Manhertz is one of three players since 1942-43 to serve as a team captain for three seasons while wearing the Blue and Gold.
Mahertz, who never played organized football prior to joining the Buffalo Bills on a "reserves/futures contract" in December 2014, played 116 career games on the hardwood for the Griffs from 2010-14, where he made 94 starts. He averaged 6.5 points and 6.8 rebounds per game in his career where he shot 49.2 percent from the field and 71.8 percent from the free-throw line. A 2013-14 Preseason All-MAAC selection, the Bronx, N.Y., native finished his career ranked fourth in school history with 789 rebounds and he is one of three players since 1951 to lead the Griffs in rebounding in three consecutive seasons. Manhertz scored a career-high 17 points against Niagara Jan. 27, 2013 and he was credited with a career-best 18 rebounds at Marist Dec. 9, 2012. He ended his career with 14 double-doubles and he had 10 or more rebounds in a game 27 times in his career.
In his four years at the College, Manhertz served on Canisius' Student-Athlete Advisory Committee and he earned his undergraduate degree in health and wellness. He also completed his master's degree work in 2014, earning a master's in sport administration from Canisius. He is the first Canisius student-athlete to sign a pro contract with the Buffalo Bills since former football player Tom Doctor was with the organization for training camp in 1988.
Manhertz was released by the Buffalo Bills on Aug. 19, and he signed with the Saints as a free agent on Aug. 24. As a member of the Saints' 10-man practice squad, Manhertz will have full access to the team facility and attend all meetings and practice sessions, but he is not allowed to dress for games or travel to road games, per NFL rules.