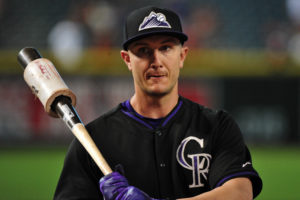 By TIM MULLHAUPT
The question "remember when?" generates in many a sense of nostalgia, fond memories, and a yearning for the days of old. For Mets fans born after the early 80's, the phrase generates the polar opposite response.
Remember when Beltran looked at strike three?
Remember when Castillo dropped that ball?
Remember when the Wilpons invested with Madoff?
Remember when Sandy said (insert wishy-washy pledge about the future here)?
Remember when the Mets won 11 in a row?
Even for those Amazins' diehards that witnessed the curse of the babe in '86, or the storied surge of '69, it has been quite a drought of poor return for even the most patient of fans. Fast forward to 2015, and the results are more or less the same with one major exception: the Mets are still in the hunt. Currently 42-41 on July 6th, New York is just 4.5 games back of the first place Nationals.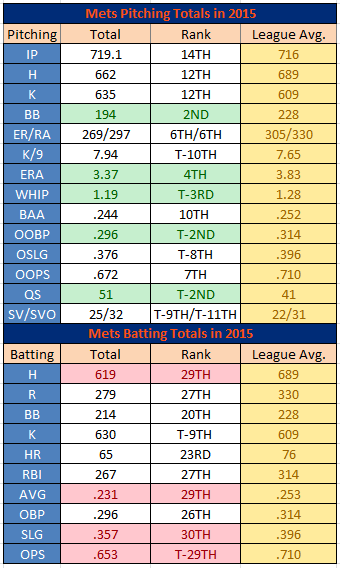 It almost defies logic. Taking one look at the Mets run differential of -11 one would be right to puzzle their ability to sit above .500 let alone second in their division, 3.5 games out of a wild card spot. Yes, the NL East is so bad-the fourth place Marlins and the fifth place Phillies own the MLB's fourth worst and worst records, respectively-but the Mets rotation has to get the credit their due.
The unit has paced the Mets, answering the hype surrounding mending superstar Matt Harvey, NL Rookie of the Year Jacob deGrom, and the fervor regarding phenoms Noah Syndergaard and Steven Matz. Even the 42-year old Bartolo Colon is tied for 6th in the league in wins. Add in a quality year from Jon Niese and you get a clearer picture as to where the Mets 41 wins have come from.
As strong as the pitching has been, the bats have been equally poor. Where pitching ranks top five in five major categories (BB, ERA, WHIP, OOBP, QS), the New York hitters combine to find themselves in the bottom two in four major splits (H, AVG, SLG, .OPS), and rank in the bottom third of the league in all categories considered (see left).
Help is presumably on the way with Travis d'Arnaud and David Wright circling the conclusion of the all-star break for their return. Though the pair has combined for just 27 games played this season, both found themselves in the thick of things offensively with d'Arnaud hitting .296 over 71 at bats and Wright raking .333 over 33. That said, d'Arnaud is nursing an elbow injury that could put a damper on what had been a hot albeit injury-plagued start and Wright is battling the ever unpredictable spinal stenosis. Their presence would certainly bolster a lineup that can't produce much worse than its current rate, but it would hardly be a surprise to see both bats-especially Wright's-given plenty of rest to assure their durability once back in the majors. With that in mind, can this team still be made into a contender within the confines of the 2015 season?
That's the question GM Sandy Alderson has been mulling for the majority each year of his tenure with the ball club, one that may be soon coming to an end if that question continues to be answered with a "we'll show 'em next year!" What's obvious to everyone in baseball is that the Mets are sitting on an unmatched stockpile of talented young arms. Harvey has been sound, but not perfect in his return from Tommy John, but his "not perfect" is better than all but a select few in the league. deGrom may actually be better, even if by the slimmest of margins; if he had run support this year, he'd be in the thick of the NL CY Young vote. Syndergaard has had a few moments of "Iron Man 2" (such is to be expected in a player's first year) but has certainly produced a few Thor-like performances in his young career. Colon remains ageless. Matz's MLB debut was hailed as legendary not for his stellar pitching performance, but for his four RBI, which actually ranks as one of the best offensive performances of any Met hitter this year. Jon Niese has been solid, having not allowed more than three earned runs in a month.
So who do you trade? The dilemma facing Alderson is the fear of dealing a future Cy Young vs his rotation's discontent with its current set-up as a six-man rotation. Harvey, currently regarded as the ace has been the most vocal in its opposition. He and deGrom are already in that Cy Young category, and should be regarded as untouchable. The duo of Syndergaard and Matz are regarded to have similar ceilings, and have impressed in limited action thus far. They are premium trade chips. Niese won't be mistaken for a top-of-the-rotation arm, but he's a respectable third starter and an above-average back end guy. At 42, Colon won't fetch too much interest, otherwise he would have been traded prior to 2015.
Short of dealing Colon for a hitter with pop, the ideal trade would be involve Niese being jettisoned off for a veteran hitter who can improve the lineup immediately. On his own, it's doubtful he could land any bat of such caliber. Packaging him with position player like Daniel Murphy and a prospect may. If the Mets want seismic change there's a chance they'll have to part with one of Syndergaard or Matz, and that's where Alderson gives understandable pause. Keep in mind that Zach Wheeler projects to be back sometime next summer, so the loss of one pitcher could be offset by his successful rehab of his Tommy John. That in itself is no guarantee but considering that the majority of the current rotation has successfully done so, there's no reason to rule it out.
Who? Chicago Cubs SS Starlin Castro

Recently ESPN penned a would you rather pitting the organizational depth of the Cubs infield vs the Mets pitching. Why not have the best of both worlds? With premiere talents like Javier Baez and Addison Russell waiting to claim their roles as the second baseman and shortstop of the future, Castro, though only 25, could be the odd man out. A primarily offensive shortstop, the three-time All-Star has a penchant for erratic play in the field. He's currently having  a down year hitting just .259. That said, his youth and plus bat is desperately needed in the Mets lineup. His career average of .281 is much more indicative of what he's capable of as a hitter. Signed for an average of $7.57 million through the 2019 season with a team option in 2020, Castro provides a long-term solution with a high ceiling.

For? SP Jon Niese, 2B Daniel Murphy

The Cubs are looking for a solid fifth starter as the duo of Travis Wood and Tsuyoshi Wada proved ineffective, while Clayton Richard made his first start yesterday following nearly two years away from the game rehabbing his shoulder. Richard tossed 6.1 innings in a 7-2 win, but it'd be understandable if the Cubs wanted a more established and consistent arm. Trading Castro would allow Russell to move to his more natural shortstop. Adding Daniel Murphy, who hits free agency following the 2015 season, could be a solid stop gap second baseman while Javier Baez continues to grow his game in the minors. Baez recently took up third base in triple-A, signifying the Cubs may be committed to moving phenom Kris Bryant into the outfield. Murphy is currently one of the few Mets hitting the ball well as he holds a more than respectable .285 average.
Why would New York move one of their few productive bats? At 30, Murphy doesn't have much of a knack for the field and likely won't gain one anytime soon. Meanwhile, the Mets could shift Wilmer Flores over to second, as they've already attempted this season, following the 23-year old's struggles at short this year. The Mets can then continue to develop the plethora of middle infielders they have scattered through the higher levels of the minors.
————————-
>Who? Milwaukee Brewers CF Carlos Gomez

The Brewers continue to be a disappointing enigma. The team sits in dead last of the competitive NL Central, sporting the league's fourth-worst run differential of -51. Milwaukee has gotten hot of late winning eight in a row, but that is to be taken with a bit of salt given that four of those games came against the atrocious Phillies. Even with the win streak, the Brew Crew is still 18.5 games behind the first place Cardinals and 10 out of a wild card spot. The team has denied having interest in moving pieces like Gomez, but if presented an attractive offer, what choice do they have? According to John Heyman's sources, the Brewers anticipate Gomez leaving in the 2017 off season.
There's an element of humble pie to be had by the Mets in this hypothetical; Gomez was once a top Mets prospect dealt to the Twins for Johan Santana. It took a while and a change of scenery to Milwaukee for New York to regret that trade, but since his breakout in 2013, you can bet there have been more than a couple fans and front office executives that wondered what could have been. In the two seasons leading up to 2015, the once aspiring prospect has emerged as a five-tool threat with eery consistency. The righty hit for a slash of .284/.338/.506 with 80 runs scored, 24 home runs, 73 RBI, and 40 stolen bases in 2013. He barely varied in 2014 compiling a line of .284/.356/.477 with 95 runs scored, 23 home runs, 73 RBI and 34 stolen bases. 2015 has seen him fall off a bit due to a nagging hamstring and wrist, but at 29, there's still substantial hope these ailments will stay limited to one season.
Beyond his bat, Gomez is a good defender, though in New York he may have to move to a corner spot given the magnetic glove of the rangy Juan Lagares presently manning center. Left field is currently opening up with a 36-year old Michael Cuddyer largely ineffective and banged up. Signed through 2016, Gomez could bring star power to the top of the Mets lineup they envisioned years ago while they finish developing heralded outfielders Michael Conforto and Brandon Nimmo.
For? SP Jon Niese, 2B Daniel Murphy, C Kevin Plawecki

The Brewers need help in multiple spots though starting pitching is the most glaring issue. Of the four starters with double digit starts on the season in the rotation, none have a winning record. Worse still, of those same four, only former NYCBL hurler Mike Fiers has an ERA below 4.00. Jon Niese could add stability for many of the reasons listed earlier. Daniel Murphy and Kevin Plawecki would step in as immediate upgrades for Luis Sardinas and Martin Maldonado who are hitting .221 and .193 at second base and catcher for Milwaukee. For this to work on the Queens side of things, the Mets would have to wait until after the All-Star break to complete this trade to allow d'Arnaud to return from injury, thus making the 24-year old Plawecki available. That may seem a lot to give up for 29-year old Gomez, but the savings of not giving up a premium arm and acquiring return on an infielder who may not be back would be a win-win. It also allows the Mets the move to send Flores to second and potentially call up 24-year old Matt Reynolds, a jack-of-all-trades, master of none shortstop who's performed well this season in 77 Triple-A games.
————————-
Who? Colorado Rockies SS Troy Tulowitzki
Not much has been said since rumors floated in May that Tulowitzki and his agent were mulling the idea of requesting a trade from Colorado. The star shortstop made it known he would do no such thing, but two months later and the Rockies are still cellar dwellers in the NL West. Meanwhile, Tulo has gone back to doing Tulo things, currently boasting a slash of .320/.358/.480. What's more, he's played in 73 of a possible 81 games, perhaps easing the concerns regarding his long injury history.
The Rockies have needs everywhere and Tulowitzki's skill set would understandably require a high price both in players and in the check book. Tulowitzki comes with the positive of being locked down long-term, currently signed through 2020 with a 2021 team option, but he's set to earn $114 million between the beginning of this season through the end of 2020. The Wilpons have not made high-spending a habit in the post-recession era and would need to be assured the 30-year old Tulowitzki still has plenty of gas left in the tank before approving such a high-stakes transaction.
For? SP Jon Neise, SS Amed Rosario (A Advanced), 1B Dominic Smith (A Advanced)

The price may be going down on Tulowitzki as the league has reportedly soured on his talents. If the Mets are one of the teams that feel this way, you can forget this trade ever happening. Still, the numbers back up the fact that Tulowitzki is still more than a productive player at the age of 30. If the Wilpons deem him worth the gamble and the high investment of years and money owed to him, they may get away with a steal.
Yes, Mets prospects Rosario and Smith have earned rave reviews in their young careers, but both are still reside in St. Lucie, playing for the Advanced A club. The pair are still a few years away from the majors.
For Rosario's part, he was a high profile international pool signing for New York back in 2012. He's still just 20 years old and has plenty of room to grow into his well rounded skill set. His talents earned him a spot in MLB.com's top 100 prospects for 2015. That said, the Mets  have other more MLB-ready at the position coming down the pipeline like Matt Reynolds (AAA) and Gavin Cecchini (AA). Neither may have the ceiling of Rosario but each has enough talent to develop into quality players.
Smith, a Mets first round pick in 2013, was scouted to have a power bat, but hasn't really produced many four-baggers in his young career. He's still hitting for average and projects as both a disciplined hitter and solid fielder. Like Rosario he's just 20 years old. Lucas Duda is New York's first baseman for the foreseeable future, and a sound one at that, so Smith's path to the majors may find itself blocked regardless when it's time for his entrance into the show.
As for Niese, as mentioned earlier, the Mets have more than enough depth in the MLB right now to compensate for his departure this year and in the ones to come.
For the Rockies, if the market has truly moved south on Tulo, it may be in their best interest to take the offer, even without landing Syndergaard or Matz. A middle-rotation starter and two high-ceiling prospects may end up being more than a fair offer, especially when the organization lacks starting pitching talent now and first base and shortstop options for the future.
————————-
Who? San Diego Padres OF Justin Upton, SU Joaquin Benoit, UTIL Yangervis Solarte
The Padres went all-in for 2015 and have come up empty on many fronts, finding themselves a disappointing five games under .500 at the halfway mark in the 2015 season. With the deadline on the horizon and many areas of need still left vacant, it's conceivable to think the Padres could be sellers at the end of July.
There's one major caveat for this deal to ever happen. The Wilpons have to pony up and be prepared to what's necessary to extend Justin Upton. Upton, just 27 and one of the game's upper-tier hitters, is heading into free agency following 2015.
Currently slashing a solid yet not great line of .262/.343/.442, Upton has still flashed streaks of dominance on the season. Consider the month of May, in which he hit .343/.418/.546, with 19 runs, six home runs, 23 RBI, and nine stolen bases in as many attempts. That's the kind of threat he's capable of producing. Surround him with a returning Lucas Duda and David Wright and you're looking at a strong heart of the order.
The Padres and the Mets both play in ballparks notorious for their pitcher-friendly dimensions, a less than ideal home for Upton's bat, but with the promise of a strong pitching rotation capable of winning a ring, Citi Field looks a whole lot better than Petco Park.
The Padres can attempt to sign Upton but it's not likely given the direction the team seems to be heading. They can demand a premium for Upton and risk losing him for nothing but a compensatory draft pick. Could the Mets offer the right price? Niese probably won't cut it. Even with James Shields, the Padres could be looking for a future ace in a pitcher-friendly park. Noah Syndergaard could be just that. To acquire "Thor" the price will not be cheap. Upton with the potential for being a half year rental may not be enough.
Nearing the end of a long and underrated career, Joaquin Benoit is still one of the league's premiere relievers. The 37-year old righty has one year left on his contract and a team option, limiting his value to a San Diego team that could enter rebuilding mode, but increasing his value as a trade asset. Benoit could add to a Mets bullpen that currently has Jerry Blevins, Josh Edgin, and Erik Goeddel sidelined on the DL. Jenrry Mejia is set to be activated on Tuesday after serving his 80-game suspension for PED's, and he could serve as the bridge to breakout closer Jeurys Familia, but there's no telling how sharp he is following his long layoff, not to mention the elbow inflammation that sidelined him in the first place. Benoit has been stellar in 2015, pitching to the tune of just eight earned runs allowed in 34 innings to go along with a 2.69 ERA, a 0.79 WHIP and more strikeouts (30) than hits (14) and walks (13) allowed combined. His presence could push the talented yet troubled Mejia into middle relief, and make a struggling Carlos Torres movable.
Adding in the versatile Solarte would be primarily be a defensive move, as Solarte has played every position minus center field, right field, catcher and pitcher in his major league career. In 2015, he's played first base in 27 games, second base in 18 games, and third base in 22 games. He's had a fielding percentage of .980 or higher at all three positions including a perfect score at third.Though not much of a bat, Solarte and his .250 average are still a slight upgrade over the .238-hittig Ruben Tejada at third base, and could potentially hold down the spot until David Wright is up to speed health-wise. At worst, Solarte is a significant step up as a back up infielder over Eric Campbell who's struggles in the field (.914 fielding percentage in 38 games at third base) are made no better by his pitiful .167 batting average.
For? SP Noah Syndergaard, SS Matt Reynolds (AAA), 3B Jhoan Urena (A Advanced)

The price isn't cheap. Syndergaard has the makings of a top of the rotation guy, and has already broken into the bigs. The Padres could make him the face of a franchise, and build a staff around the 22-year old phenom. The addition of the aforementioned Matt Reynolds looms large given his flexibility to play both shortstop and second base, where the cupboard lies relatively bear in San Diego. Jhoan Urena is a third baseman who's just scratching the surface of his upside who'd make a nice fit should the Padres move on from what looks like a failing Will Middlebrooks experiment. Currently in the lower levels of the minors, the 20-year old switch hitter could one day develop into a quality find at the hot corner. The reason Daniel Murphy is not involved in this trade is that without a contract keeping him tethered in San Diego for any longer than this September, the 30-year old second baseman will likely leave for greener pastures and shorter fences in 2016 (Brian Cashman is on line one for you Daniel).
These are just a few mega-deals the Mets could consider should Sandy Alderson deem 2015 worth fighting for. He could just as easily bank on free agency to land talent like a Justin Upton in 2016, but good luck selling a top-hitting free agent on a pitcher's park with a front office that is more than content to sit on its thumbs when it all hits the fan. Sensing the growing and urgent rage in the fanbase, most notably in dipping attendance and subsequent earnings, the Wilpons may not take too kindly to the strategy either. The resources are there for their utilization; 2015 is the time for the Mets to arrive they just need to seize the opportunity. As the old adage states, history favors the bold.