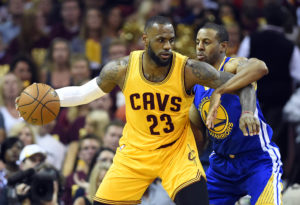 By JOE MAGS
Going toe-to-toe with LeBron James on the road in a must-win Game 4, Andre Iguodala did more than wake up the Warriors on Thursday — the veteran thrust himself into the Finals MVP discussion.
The Warriors took a 12-point lead into halftime behind their most inspiring shooting effort since the West Finals. After outlasting an onslaught of Cavalier rebounds and interior points in the third quarter, Golden State blew Cleveland off the floor in the fourth, closing out a much-needed 103-82 victory.
Last year it was Kawhi Leonard who etched his name into NBA history by largely outplaying LeBron and lifting San Antonio to its fifth championship under Gregg Popovich. With Golden State down 2-1 and staring the darkness of elimination in the face, Iguodala stimulated the two-way production that had most analysts predicting the Warriors would make quick work of the depleted Cavaliers before the series began.
Iguodala scored 22 points — more than James, who shot a dismal 7-for-22 and finished with a series-low 20 points — and Golden State was plus-16 over his 39 minutes. Steve Kerr inserted Iguodala into the starting lineup before Game 4 — Iguodala's first start all year after accepting a bench role for the first time in his career. Iguodala mercifully relieved Harrison Barnes of primary LeBron guarding duties; the 23-year-old had been dangerously meek on both ends of the floor through three games.
But the bold maneuver from Kerr sent Andrew Bogut, not Barnes, to the bench. The NBA All-Defense selection, Bogut, who was a fulcrum behind the league's stingiest defense this season was coming up short against Cleveland's massive frontline. Kerr hoped the move would spark the team's transition offense and the up-tempo stylings that aided Golden State all season.
To say the decision worked is a complete understatement. The ball zipped around the half court for the Warriors, characteristic to the aesthetic their fans have come to expect. No longer did Stephen Curry's supporting cast seem hesitant with the basketball — when Cleveland blitzed Curry on the pick-and-roll, Green was their to quarterback from the nail, knifing up the scattered defense en route to 17 points and six assists.


The Warriors scored 14 transition points in Game 4, up from four points in their Game 3 loss.
Golden State was 12-for-30 behind the arc (40 percent) after shooting 31 percent from deep during Games 1-3.
After averaging 14.7 turnovers through three games, the Warriors had 24 assists and only seven turnovers in Game 4 — nearly double the Cavaliers' assist-to-turnover ratio (1.8).
Curry finished with 22 points and six assists. While Game 4 lacked the typical Curry 3-point shooting barrage — he did finish 4-for-7 from deep — or the nifty dribbling acrobatics he's become known for, Curry played much more freely than in any other game this round.


More isolations against the under-qualified Matthew Dellavedova, frozen rope passes to Green and Iguodala in transition, tireless off-ball work around screens — Curry's imprint was left allover the game even if he was not necessarily its star.
While the reigning MVP received top-shelf production from his supporting cast, the four-time MVP in Cleveland was mostly left hanging. The Cavaliers were freezer-box cold from the perimeter (4-for-27) and shot just 33 percent front the field.
J.R. Smith was a no-show, missing 10 of 12 shots over 28 minutes. Cleveland was outscored by 27 points while he was on the floor.
The talk of the town after Game 3, Dellavedova crashed back to Earth as Golden State smartly opted to leave him open throughout he night, daring him to make them pay. The Australian went 3-for-14 from the field and finished with 10 points.
For the first time all series, Golden State's backcourt got the better of Cleveland. Shaun Livingston stalked over smaller Cavaliers guards, doubling as extra rim protection in the team's patented, explosive small-ball lineups. The Warriors were plus-25 over his 25 minutes, and the combination of Livingston and Iguodala put a tremendous toll on the tired legs of the Cavaliers' limited rotation.
The leading narrative leaving Game 4 is that Cleveland has finally seen the real Golden State — the Warriors are too fast, too skilled and, ultimately, too healthy for this version of Cleveland to keep up.
Through three games, the historic greatness of LeBron James was enough to delay the inevitable. Once Iguodala — a defensive specialist on Team USA alongside James in 2012 — forced James to surrender his insane offensive burden, however, it placed the ball in the hands of Smith, Dellavedova and Iman Shumpert (2-for-9 FGA), and squandered the advantages Cleveland had racked up in Games 2 and 3.


If LeBron James isn't in full control of this series, what moves does Cleveland have left to make? Iguodala, for unlocking his team's preferred tempo and eradicating Cleveland's in the process, was invaluable in Game 4 — and stands to be named the most valuable player of the Finals should Golden State completes its season-long mission.
Free Throws
Heading back to Oakland for Game 5, Golden State can add earning back its home court advantage to its growing list of competitive edges the rest of the way.
Green finished with 17 points in Game 4. He had scored 17 points in Games 2 and 3 combined. Right up there with the career-defining work from Iguodala, Golden State's playmaking 4 is the closest thing we have to a Swing state — if Green is making plus-plays with the space Cleveland is leaving him on offense, and rebounding his position on defense, Golden State wins.
According to ESPN, Iguodala is holding LeBron to 33.3 percent shooting through four games when he is the primary defender. Again, kudos to Kerr for making a tough call — switching up a starting lineup that won 67 games during the regular season. He let his pride down and made a sound basketball decision: bravo.
One of the main factors in removing Bogut from the starting lineup was the outstanding work from Timofey Mozgov, who continued his monstrous production in a losing effort on Thursday. Mozgov had 28 points and 10 rebounds in 33 minutes, and the Cavaliers were only minus-5 with him on the floor. The big man sunk 10 of 12 foul shots and was 9-for-16 from the field. He also connected on the prettiest LeBron pass of the night:
Some analysts speculate Cleveland got too Mozgov-centric offensively down the stretch — a well-executed ploy by Golden State to kick Cleveland's offense away from LeBron. Again, Kerr came out leaps-and-bounds stronger on the sideline in Game 4.
The Warriors want Mozgov to outscore LeBron. Credit to Kerr.

— Jimmy Spencer (@JimmySpencerNBA) June 12, 2015
I think it's a mistake by Cleveland to A. Not play JR or Shump even if they're struggling B. Keep trying to go to Mozgov inside

— Mike Prada (@MikePradaSBN) June 12, 2015
The Cavaliers scored 12 points in the fourth quarter. Ouch.
Need more proof LeBron isn't human?
lol lebron's blood has already begun to coagulate he is not a human

— america (@greghoward88) June 12, 2015
I can't believe it stopped bleeding. Wow. Head injuries usually gush until their stitched up.

— Blaise Hill (@BlaiseSHill) June 12, 2015
Cleveland opened the game on a 7-0 run, forcing Kerr to call an early timeout. Considering the starting lineup change, the dismal opening was less than ideal for Golden State. Out of the timeout Kerr called for a Curry isolation on Dellavedova — something that simply did not happen often enough in Games 1-3. Curry danced him senseless, turned him around, and nailed a long 3. The game never quite looked the same after that.
Joe Mags (@thatjoemags) is a writer for the Watertown Daily Times, Crossover Chronicles and Pickin Splinters.