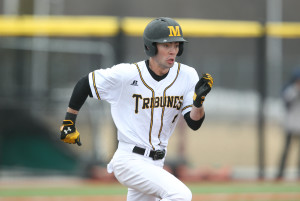 By PAUL GOTHAM
GROTON, CT. – The Monroe Community College nine used two ninth-inning rallies in as many days. A third comeback fell short.
Pete Aldrich came out of the bullpen and retired the only two batters he faced and stranded two runners as the UConn Avery Point Pointers (34-11) clinched the Division II East District Championship with a 7-6 victory over Monroe (33-18), Sunday afternoon at Washington Park.
"That one hurts," Monroe head coach Dave Brust said. "It really hurts. I don't usually get emotional after a loss, but this one was different."
With runners on second and third Aldrich got a strike out and ground ball to end the threat and the game. The right-hander came on Saturday with runners on the corners on no outs in a one-run game in the fifth and hurled five innings for the win.
"He didn't get the MVP, but he could have," Avery Point head coach Roger Bidwell stated.  "He really could have."
Monroe erased a one-run deficit and went on to defeat the fourth-ranked Westchester Community College Vikings, 6-2 to open the tournament. The Tribunes matched that effort earlier in the day Sunday scoring two runs for a walkoff 11-10 win over Avery Point.
The Tribunes looked prime to make it a third dramatic comeback. Collin Stack, pressed into service because of an injury, led the ninth with a single down the left field line. Hunter Merrill worked a base on balls, and Andrew Segar loaded the bases with an infield single.
Stack came home on a wild pitch and cut the deficit to two at 7-5. One out later, Ryan Prevost plated Merrill with a single through the right side. Aldrich came out of the pen at that point and set down the only two batters he faced.
"I would have bet my house against it," Brust said of how strongly he felt about his team's chances to win the game. "We have no regrets. We had bases loaded."
Avery Point scored two in the first and took advantage of two errors and two walks for a 4-0 advantage going into the third inning.
Monroe starter, Zach Vennaro settled in from there and worked into the eighth with the scored tied.
"He saved us," Brust stated.
The freshman right-hander pitched two and a third for the win in the earlier game before taking the ball in the championship game.
"It's tough to put a number on his pitches because he did so much," Brust added.
Vennaro worked out of a bases-loaded jam in fifth. He surrendered back-to-back base hits to start the sixth before inducing a double play for the third time in the game.
With Vennaro holding the Avery Point bats in check, Monroe erased the deficit.
Segar doubled with one out in the third. Jimmy Latona walked. Segar scored when the throw to catch him stealing third bounced off the dirt and into the outfield. David Vaccaro doubled home Latona.
Tommy LaCongo made it a one-run game with a leadoff home run in the fourth and his two-out single in the eighth brought home Latona and knotted the game at four.
Garrett DeLotto singled home a pair in the bottom of the inning as the Pointers took a 7-4 advantage.
"Both teams wouldn't give up," Bidwell commented. "Both teams had a lot of character. Give Monroe a lot of credit. They kept competing. Just when you thought the game was over, it wasn't. It went right down to the end. They didn't quit. They kept competing. We're lucky to win that game."
Monroe ended a seesaw affair in the first game with a walkoff walk.
Angel Diaz rapped a one-out single in the bottom of the ninth. Braden Pasmore came on as a pinch runner. LaCongo worked a base on balls. Matt Brooks loaded the sacks with an infield hit. Passmore came home on a wild pitch. Segar loaded the bases again with another walk, and Merrill followed with his own free pass to score the game winner.
"That was just tremendous as far as exciting games today, back and forth with lead changes," Bidwell said. "It's really tough on coaches though."
POINTERS SURVIVE TWO WILD GAMES TO EARN WORLD SERIES BID
Monroe played Sunday's game without Ellington Hopkins who pulled up with a leg injury while running out a ground ball to first. Hopkins went 2-for-5 with two RBI and two runs scored in the win over Westchester. He had two hits in Monroe's 11-7 loss to Avery Point, Saturday night.
Avery Point's DeLotto was named MVP.
Monroe had won 11 of 12 going into the second game on Sunday. A fact that wasn't overlooked by Brust.
"That was a testament to the dedication of the sophomore class, and the work they put in over the last year."