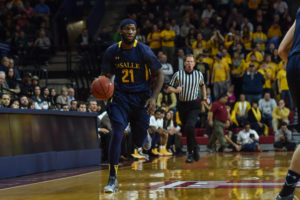 By Paul Gotham
BROOKLYN — After trailing for most of the first half, La Salle scored six straight to take a 31-30 edge into halftime.
Trailing by three, Cleon Roberts knocked down a pull-up jumper. On the next possession D.J. Peterson corralled an offensive rebound and kicked to Roberts who found Steve Zack in the lane for a jump hook. Roberts found Peterson underneath for another bucket and 31-28 Explorers lead.
Donte Clark grabbed a loose ball in the lane and finished to trim the deficit to one going into the locker room.
Cady Lalanne sparked a 12-2 run as UMass took their largest lead of the half. The 6-10 converted a pair of rebound and putback situations – the second with contact and a free thrown. Derrick Gordon came off a screen, caught in the lane and finished off the drive.
After Jordan Price used a spin move to score in the lane, C.J. Anderson used the window to hit a pull-up jumper in transition. Donte Clark went with a spin move in the lane to score. Gordon scored on a layup for an 18-9 UMass lead with  11:33 to go in the half.
La Salle's defense changed the momentum.
Price came off the baseline and stripped Lalanne when he doubled the post. Zack stopped Lalanne at the basket in transition.
UMass has a 25-16 advantage in rebounds at the half.