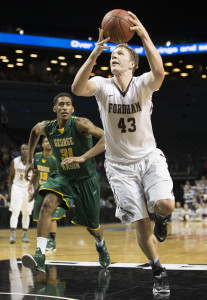 BY RYAN LAZO
BROOKLYN — Fordham's history in the Atlantic 10 Conference Tournament is not one the program is proud of. Five wins in 19 games does not coincide with a winning program. But don't tell freshman Chris Sengfelder that.
The freshman forward carried Fordham past its downtrodden history, scoring a game-high 27 points in the Rams' opening round game against George Mason. Even though the Rams entered the contest losers of four of their previous five, it was evident early-on, Fordham would not be denied.
It started with Sengfelder's individual brilliance, continued with the play of Fordham guard's Mandell Thomas and Bryan Smith in finding the open man with perfect passes, and resulted in a six-point half time advantage. Twenty minutes later, during which George Mason would pull as close as one, Fordham had eliminated the Patriots in the opening round of the A-10 Tournament for the second-consecutive season with a 71-65 victory.
Fordham moved to a perfect 5-0 against George Mason in the program's history and did so with their best effort since a convincing 15-point win over La Salle Feb. 25. But more importantly, the victory gave the Rams entry to the second round of back-to-back A-10 Tournament's for the first time since the 2006 and 2007 campaigns, perhaps showing a glimpse of a better future for a program stuck in the basement for a number of years.
"It is what it is," Fordham head coach Tom Pecora said of his those saying his rebuild has taken too long. "I think the future is bright, but that's the way I've always looked at things … We're just start preparing for VCU, watch some film and get ready."
Waiting for Pecora's Rams in the second round is the No. 5 seeded VCU Rams, a team which was ranked for much of the season before falling into a tailspin following a season-ending injury to A-10 Defensive Player of the Year Briante Weber.
But Weber's injury, one that leaves VCU without one of the nation's top ball hawks (he had 78 before his injury), is not Shaka Smart's only concern about his team. Treveon Graham has not been the same after injuring his ankle, scoring just 39 points over his last three games.
Additionally, Smart's team has also dropped three of its last four games entering the tournament, a far cry from where the Rams once sat, perched atop the Atlantic 10 entering February. In other words, VCU is ripe for the picking if Fordham can execute their game-plan, limit turnovers and keep their opponent in a half court offense which they struggle to operate in.
Add in the fact Fordham can play relatively stress free with a nothing-to-lose attitude and the Rams could shock VCU. After all, Fordham hung around against VCU back in January and no doubt learned from the experience of playing against the famed HAVOC defense.
"They've been through a little bit of a rough patch and I know Shaka will have them prepared," Pecora said. "It's mid March. We know what we have to do and how to execute against that type of pressure, and we have to punish them for it."
And one reason Pecora can feel confident is the play of Sengfelder during their opening round game against George Mason. The freshman, who was named to the All-Rookie Team, showed why during a dominating 40 minutes of action. The Germany import showed an eye for the hoop, deftly switching off screens to find himself open under the basket for easy looks.
However, the 6-foot-7 forward also showed off his range, connecting on three treys, including two during a two-minute span of the second half to fuel an 8-0 Fordham run. After the last of his threes, Sengfelder pumped his fist near the A-10's logo at mid-court, and let out a primal yell.
Then, following a George Mason timeout after a Patriots' bucket pulled them within seven with six minutes remaining, Sengfelder was up to his usual tricks. The freshman received a bounce-pass at the elbow, saw the shot-clock winding down before crossing over to his left for a quick jumper, finding net and delivering the death-blow to George Mason.
"He slipped a few screens, got a few lay-ups and had them off-balance with that," Pecora said of the freshman. "By doing that, it softened them around the basket and in turn he was able to pop it and get some good looks."
If Sengfelder can do the same against a VCU team limping into the tournament while his teammates limit turnovers, Fordham has an opportunity to pull off a shocker. After all, it is March.
Ryan Lazo is a sports clerk at the New York Post and former sports editor in Richmond. You can follow him on Twitter @ByRyanLazo.