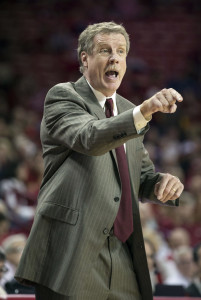 By RYAN LAZO
NEW ROCHELLE, N.Y.  — "Where are you guys the rest of the year?" Iona head coach Tim Cluess remarked to the room filled with media as he sat down for his presser following his team's victory over Manhattan to complete a season-sweep of their rivals.
While Cluess' statement was made in good humor, the press corps does noticeably grow every time the Gaels take on the Jaspers in what is quickly becoming the biggest rivalry in the MAAC, and possibly even the best in New York City. However, Cluess and the Gaels may not need to wonder where the assembled media goes for too long now, not after they completed a 24-7, 17-3 season.
And most certainly not after earning the MAAC's No. 1 seed entering the conference tournament while being the heavy favorite — along with Manhattan — to earn the league's automatic bid. Although Iona normally does not receive the type of attention other New York City teams like St. John's, there is no doubting the kind of firepower Iona.
Last season, the Gaels finished fifth in the nation and have not let up during the current campaign. Iona holds the best scoring offense in the MAAC and sixth in the country, averaging 80.3 points per game. However, even with one of the most prolific offenses, there are no promises of capturing a MAAC title.
Just last year, Iona marched into the MAAC tournament much like they are now, reached the conference finals and succumbed to rival Manhattan. At 22-11, Iona did not garner an at-large bid and participated in the NIT Tournament where they bowed out in the first round to Louisiana Tech.
However, even after a puzzling loss to Saint Peter's to end regular season play, there aren't many teams who can legitimately compete with Iona the way Manhattan is capable of. Even after playing the Jaspers twice this season, losing by a combined seven points, Manhattan head coach Steve Masiello would rather not see Iona again.
"I'm not a guy who believes in seeing teams three times," he said. "I'd be much happier not seeing Iona again."
There are other coaches across the country who would agree with Masiello and are pulling for a MAAC team to upset the Gaels to get out of a difficult first round match-up come the first weekend of the NCAA Tournament.
The reason is simple — Iona does things offensively not many teams across the country use, and in a tournament setting, it's extremely difficult to prepare for. Listening to the MAAC's second-leading scorer A.J. English describe how he and his teammates have offensive freedom to utilize every opportunity to score — not worrying about mistakes — makes them dangerous.
Then, add in the fact no program in the New York Metropolitan area has a better record than Iona's 116-52 since 2010, and one can see the level of sustained success the Gaels have experienced. And it all starts with Cluess at the helm.
The New York native experiencing success is nothing new, in fact, it's expected. In his 24 years as a coach, Cluess has maintained a 500-163 record. He's fostered an environment for winning while also devising devastating offensive attacks.
His offense is also in line to receive a boost with the addition of junior Isaiah Williams after missing 12 games with a foot injury. In his first game back, Williams scored 12 points and corralled seven boards, nearly matching his season average of 14 and seven. That production is combined with English's 19 points per game, preseason MAAC POY David Laury's 20 and nine, Schadrac Casimir's 15.8 points as the nine-time MAAC weekly award winner and Kelvin Amayo's seven points.
"It's too many options to have," Masiello said of Cluess' roster. "It's like Baskin Robbins."
Iona's scoring options may be similar to Baskin Robbins due to its quantity, but definitely not in its effect on opponents which has helped the Gaels win 18 of its last 21 games. Even though they have been rolling of late, the Gaels' players are reminded of what could happen if they slip up.
It's why the eight-point loss they suffered to the Peacocks — who had entered the contest losers of three of its last four — was a wake-up call of sorts as the team enters the MAAC tournament. The Gaels, the conference's No. 1 seed, is scheduled to play the winner of Siena and Niagara Saturday afternoon. Iona defeated both of them twice this season, but they are not willing to overlook any team.
"Everyone plays us tough," English said. "I think the MAAC is an underrated conference … Being undefeated at home is a big deal, but the big picture is winning a conference championship."
Iona's attempt of earning back-to-back MAAC titles ended last year, but with a renewed focus on the task at hand and a litany of offensive weapons at their disposal, the Gaels are just three wins away from another NCAA berth, bringing with it hordes of media like they experienced last weekend.
Ryan Lazo is a sports clerk at The New York Post and former sports editor at The Hopewell News. You can follow him on Twitter @ByRyanLazo.