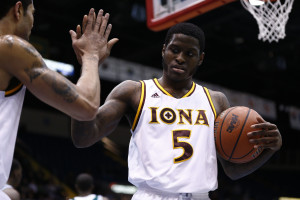 BY RYAN LAZO
NEW ROCHELLE, N.Y. — In the grand scheme of conference standings and overall records, this game meant very little to an Iona team which had already locked up the MAAC's top seed entering next weekend's conference tournament, but they certainly didn't play like it.
Instead, their match-up against the Manhattan Jaspers gave the Gaels the type of test they needed if they are to reach the higher aspirations they have set for themselves with an NCAA Tournament appearance in the balance. While no one would argue Iona may have the more talented of the two team's rosters, it means little when it comes to the scoreboard.
Steve Masiello's Jaspers are always prepared to execute an opponent's weakness and halt a team's go-to scoring presence. Manhattan did just that during the 87th clash between the two schools in a game which seemed poised to be broken open only to turn into a tight contest. In fact, after a 7-0 start gave the Gaels a 13-point lead to begin the second half of action, Manhattan's Emmy Andujar jump-started a 7-0 spurt themselves.
However, that's when Iona's steely resolve displayed itself in the form of A.J. English. The junior guard, who entered play as the third-leading scorer in the MAAC, took over the contest.
English would nail three treys and score 11 of his team's first 17 points in the second half, including eight over a two-minute span, forcing a Jaspers' timeout which also signaled its demise. Iona would never lose the lead the rest of the way en route to their 11th straight win, completing just their fourth unbeaten season at home in a 79-75 victory.
After the game, Masiello talked about how well his team responded to the challenge presented by Iona. He also spoke about not wanting to see them again because of how good of a team they are, and to him, it all starts with the play of English.
"Good players get open," he said of English after his 26-point night on 7-of-15 shooting. "You don't want Stephen Curry to get shots, but he gets his shots. Good players get open; they read and adjust … I thought we lost him in transition sometimes and that was the difference in the game. Those two plays in the second half, that was big difference because I thought it gave them some confidence and momentum."
But there were other reasons for Iona to be confident and it had to do with the way their own team adjusted to an off night by leading scorer David Laury. The senior playing his last game in front of the Iona fans had to work for each of his 13 points during a 3-of-13 shooting performance, but still managed to corral 11 boards for his 15th double-double in his last 25 games.
And the reason why the off night of a star player didn't affect the Gaels like it would have for many teams was because of the boost it received with the return of junior Isaiah Williams. The 6-foot-7 swingman had missed the previous 12 games — he had averaged 14.2 points per game before the injury — and turned in a 12-point, seven-rebound effort which surprised even his head coach.
"I thought he gave us a lot more than we expected out of him tonight," Tim Cluess said after the win. "He's nowhere near where he was, but he made some big plays today."
In fact, big plays were the theme of the game, and it all began during the game's opening moments.
Iona seemed poised to take control of the contest over a 1:47 span of game action, beginning with a Schadrac Casimir four-point play and ending with an emphatic English dunk following a steal in the open court. A three-point game suddenly turned into a nine-point advantage, 18-9, forcing a Manhattan timeout.
However, much like the previous meeting between the schools located just nine miles apart, this one would never see much separation. Steve Masiello's Jaspers may not have the talent that his counterpart has, but his team knows how to execute a winning game-plan. Facing a team which lives off of points in transition, Manhattan turned the ball over just six times in the first half, resulting in just eight Gaels' points.
Additionally, Manhattan had eight different players score in the opening 20 minutes, led by Shane Richards who connected on 2-of-4 treys and all five free throw attempts for a team-high 11 points. But even with a defensive effort stifling Iona in their half court sets, limiting them to just 44 percent shooting in the first half, Manhattan found themselves trailing 41-35.
The Jaspers would pull even closer in the second half, but every run was answered by Iona, proving the rivalry continues to bring out the best in the two programs.
"There's been eight times in three years we've played and this is the first time we've been swept by them," Masiello said. "That's what makes it a rivalry … We've been going back and fourth. I'm not a guy who believes in seeing teams three times. I'd be much happier not seeing Iona again."
Added Cluess, "When you win, you are kind of a little bit skittish to make adjustments because you don't want to take something away that's already worked. Just because you beat a team twice, doesn't mean you can't beat them a third. Whatever team plays the best that night will win the game."
For two of the conference's top three teams, a third match-up is likely to follow. If last year's championship game — a Manhattan win — and the two Iona wins this season of just seven combined points are any indication, another thrilling clash is on tap for an NCAA berth.
Ryan Lazo is a sports clerk at the NY Post and former sports editor of the Hopewell News. You can follow him on Twitter @BYRyanLazo