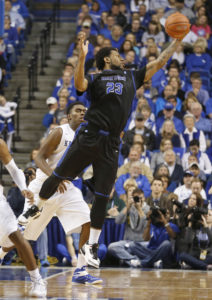 By Justin LaDuca
1.) Justin Moss, Buffalo
His Bulls have won two in a row, a win streak would give them plenty of momentum going into the postseason.
2.) Julius Brown, Toledo
Named Co-MAC Player of the Week.
3.) Shannon Evans, Buffalo
Named C0-MAC player of the week.
4.) Raven Lee, Eastern Michigan
Eagles still remain above .500 overall at 17-10, but are only 6-8 in the MAC. Lee provides them with the threat to make things happen, and has a chance to carry them far into the MAC Tournament.
5.) Chris Fowler, Central Michigan
The "Assist King" of the MAC. Chipps have moved into first place in the West Division and are a favorite to win it all.
6.) David Brown, Western Michigan
Broncos have shown some inconsistency towards the end of the season, are 4-6 in their last 10 games.  They need to get back to the dominance they showed earlier in the season when they started off 11-5.
7.) Jimmy Hall, Kent State
Golden Flashes have won three in a row and have a game lead in the East Division. They are surging at the right time.
8.) Maurice Ndour, Ohio
Ndour ranks only second overall in the MAC in rebounds. (201 total, averaging 8.4 per game.)
9.) Richaun Holmes, Bowling Green
Holmes ranks third overall in the MAC in rebounds (200 total, averaging 8.0 per game). A true presence in the paint. His Falcons remain only a game back of Kent State for the East Division Lead.
10.) Javrez Willis, Ohio
Has played some great basketball in a pretty forgetful season for the Bobcats. Hey you never know, crazier stuff has happened. Bobcat fans just think of Liberty University in 2013.