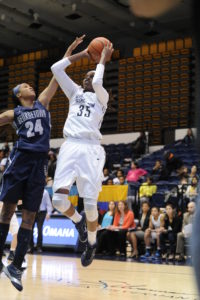 By Matthew Fidurko (@Durko33Matt)
1. Jonquel Jones (George Washington) – The Colonials were back to their usual winning ways this week. In a close mid-week victory over VCU, Jones recorded a monster double-double, totaling 15 points, 18 rebounds, five assists, and six blocks. Over the weekend, in a domination of Fordham, Jones poured in 22 points on 10-10 shooting.
Early But 110% Safe Prediction: Atlantic 10 Player of the Year
2. Andrea Hoover (Dayton) – Hoover's career may be coming to end soon, however, Dayton is on fire right now, trying to jump ahead of an outstanding GW team. In the Flyers victory over Fordham, Hoover tailed 12 points and five assists. Over the weekend on her senior night, Hoover scored 11 points and added five rebounds in a blowout win over La Salle.
3. Caira Washington (George Washington) – On any other team in the Atlantic 10 Caira Washington would be the team's number one player, however, for GW she is the second part of the terrific frontcourt trio. During the week in a close victory over VCU, Washington recorded a 16 point, 12 rebound double-double. Then, over the weekend, Washington poured in 18 points while adding five rebounds.
4. Ally Malott (Dayton) – Like Caira Washington, Malott would be the best player on any Atlantic 10 team besides Dayton. In a huge mid-week victory over Fordham, Malott recorded a double-double, scoring 10 points and pulling down 13 rebounds. On her senior night, a senior night that said farewell to two of the best players in the program's history, Malott recorded a near second double-double of the week, totaling 20 points and nine rebounds.
5. Charise Wilson (Rhode Island) – It was a tough week for the Rhode Island Rams, saddled with two losses, but beyond a rough statistical week, Charise Wilson does everything for the Rams. In a tough mid-week loss to La Salle, Wilson scored 12 points and added six rebounds. Over the weekend in a loss, Wilson, who seems to be fouling more, again only added 11 points on 4-9 shooting.
6. Taylor Brown (George Mason) – George Mason is struggling mightily lately, getting blown out twice this week. Taylor Brown is singlehandedly trying to keep the Patriots afloat, however, constantly facing double teams makes it difficult for her to score. Early in the week Brown was held to only 11 points, however, over the weekend Brown poured in 21 points.
7. April Robinson (Duquesne) – Duquesne is getting hot and is establishing themselves as an elite team in the Atlantic 10. In a mid-week overtime victory over Richmond, Robinson nearly recorded a double-double, totaling 17 points, nine rebounds, and five assists. Over the weekend in a defeat of Rhody, Robinson was quiet offensively, however, garnered a game-high 36 minutes.
8. Natasha Cloud (St. Joseph's) – Natasha Cloud is on a mission to record a triple-double before her career is over. In a blowout victory over George Mason, Cloud totaled 17 points, six rebounds, and nine assists. In another victory this week, this time over Richmond, Cloud was, as she always is, a stat-sheet stuffer, scoring 17 points, dishing out five assists, and adding six rebounds
9. Katie Healy (St. Bonaventure) – The Bonnies are getting their swagger back and Katie Healy is leading the way. In a mid-week victory on the road at Saint Louis, Healy recorded a monster double-double, pouring in 20 points while reeling in 15 rebounds. Over the weekend in a victory over a struggling team, Healy would only record two rebounds, however, added 19 points.
10. Sadie Stipanovich (Saint Louis) – Saint Louis has been streaking lately, only suffering a tough loss to St. Bonaventure earlier this week. Against St. Bonaventure, Stipanovich recorded a double-double, totaling 16 points and 13 rebounds. This weekend in a victory in front of over 7,000 fans, Stipanovich poured in a career-high 35 points while adding 10 rebounds.